Sailing is not only fun, but it's great exercise; it can be done solo or with a crew. One of the best things is that you never stop learning. So introducing your child to lessons at a young age is setting them up for a lifetime of outdoor fun and education. Once you have found the right sailing school for your child, they'll start to learn the basics from how to tie a knot to the nuances of various wind patterns. They will study racing techniques and learn to maintain the boat adequately, including its motors, sails, winches, ropes, and paint. The list is endless.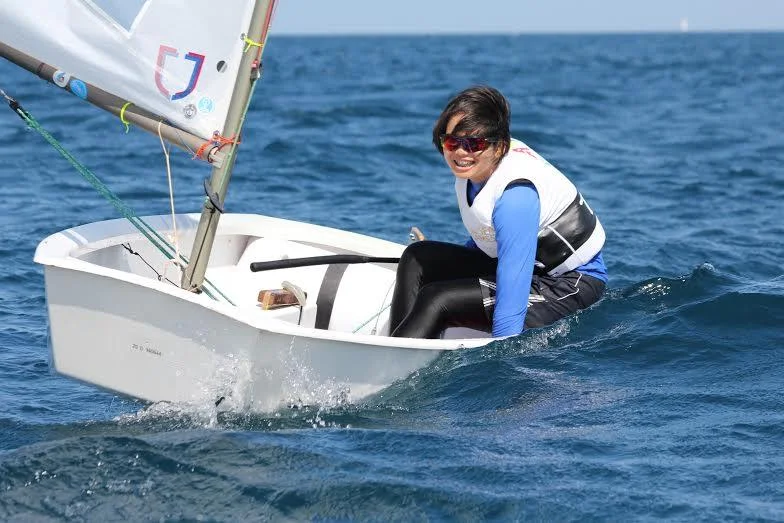 Dinghy racing in the 29th Phuket King's Cup Regatta Credit: Narumon Prapawong / Phuket King's Cup Regatta
Kids love to learn new skills. Not only does sailing give them a whole host of new things to learn, but it can help them understand themselves. It's a great life skill to teach them how to live on a boat. They will learn how to keep the small space tidy and how to share if they have a sibling, cleaning and taking ownership of essential tasks. It's vital to sail safely, optimise space and to have the opportunity to take part in other activities. Whilst onboard, they might also discover complementary hobbies such as snorkelling, paddleboarding, kayaking, diving, and even exploring new towns and villages. 
On the southeast coast of Phuket lies the recently accredited International Sailing Schools Association Phuket Yacht Club. Their coach, Ploypan Meeyousamsen, better known as Garfield heads up the successful youth sailing programme at the club. She leads the regular morning sailing classes for young sailors from the age of seven. There are regular exciting activities, regattas and dinghy races as well and family fun days and get-togethers. For the non-sailors, there are restaurant and play facilities.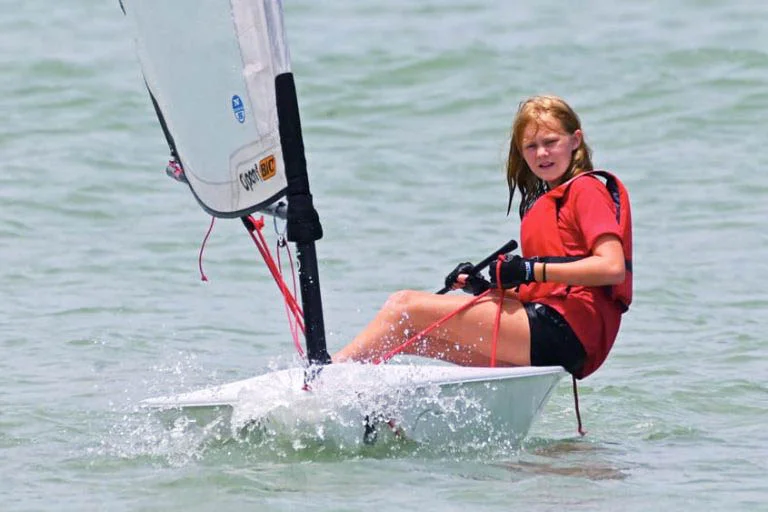 Students sail training towards their ISSA accreditation | Credit: Phuket Yacht Club
The modern world is frantic, fast-paced and full of technology. When your child learns to sail, they will be in the fresh air, away from their usual routine and any digital distractions. Sailing allows for quality family time away from the television or mobile phones. As a family, it gives you time to watch the sunrise or set over the ocean, plan exciting journeys, and enjoy time together. 
If you decide to travel with your children on a sailing boat, they will learn things that they can't learn anywhere else. Not only will they learn the fundamentals of sailing, but they can also discover new languages and cultures depending on where you drop anchor. It's a great family activity because you all learn how to work together, plan journeys, allocate tasks, check wind and tide tables, configure sails, and sail.
The yacht has an interesting history and dates back to the 14th century when the Dutch invented it. They used small, fast boats to chase smugglers, criminals and pirates. It's thought that England's Charles II was the world's first yachtsman. He spent 10 years in exile in Holland and upon leaving and returning to the throne, was presented with a luxury 60' yacht and crew. He studied navigation and naval architecture and even built 20 yachts throughout his lifetime. 
The Royal Yachting Association was founded in 1875 as the Yacht Racing Association and became the RYA in 1953. It's a well-recognised British membership association whose courses can be found all over the world. They have nurtured some of the best sailors globally and have a multitude of Olympic standard sailors.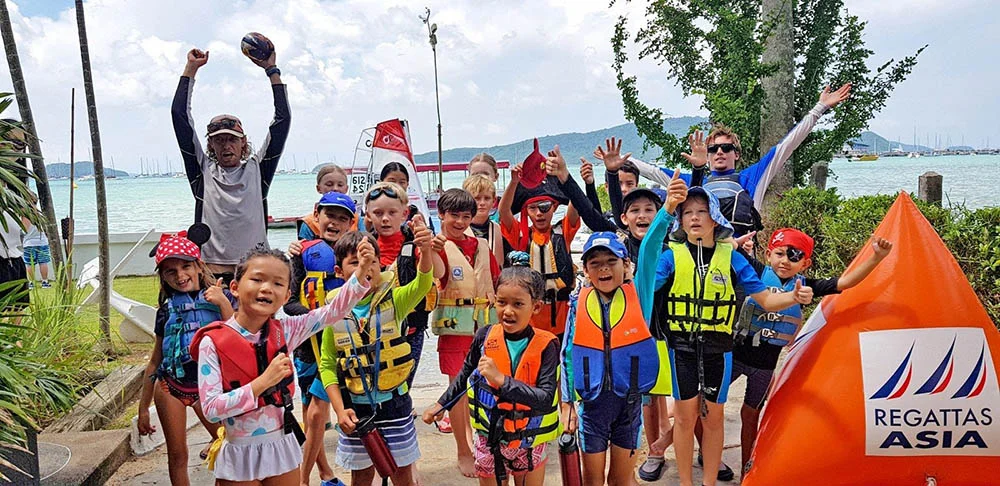 Phuket Yacht Club getting kids started in sailing | Credit: The Thaiger
Any approved Royal Yachting Association school will take a step-by-step approach and follow the RYA National Youth Scheme for children of 8 years or older. Children will move through various courses and aptitude levels starting with RYA stage one; this fun introduction to dinghies allows your child to progress very quickly. By the end of the course, students will be able to steer and understand basic principles. As their confidence builds, they will begin to understand wind and its effects on sailing. They will learn how to navigate courses and be part of the crew or helm the boat and manage to solve any problems that they may encounter whilst afloat. As their experience increases, they will discover complex sailing techniques and manoeuvres in crew boats and man overboard recovery.
The calm waters of the Andaman Sea that surround Phuket are ideal for learning to sail. There are seemingly endless hidden coves and magical islands dotted around Phuket's bejewelled coastline and some hidden gems that are only accessible by private boat. Some of the marine highlights can be found directly on Thailand's largest island or further afield. Escape the madding crowds of tourists who flock to the island each year searching for sun, sea, and sand.
Learn how to sail and create some truly memorable sailing experiences.