Phuket is an inspiring driving force for the animal kingdom.  Asia doesn't have a very good reputation for its treatment of animals. However, there is some good news. Home in Phuket explores the two most respected sanctuaries for lost, abandoned, and abused animals on the largest island in Thailand. 
The King of them all is the well-reputed Soi Dog Foundation which was founded in 2003 by Brits John and Gill Dalley, and Dutch retiree Margot Homburg.  The foundation was founded to help the street dogs and cats who had no one else to care for them and to provide a humane and sustainable solution to address the stray population and manage their medical needs. It is supported by thousands of people across the world. By the end of 2020, the foundation is forecast to see half-a-million animals sterilised and vaccinated across the country, with nearly 250,000 of those carried out in the past two years alone.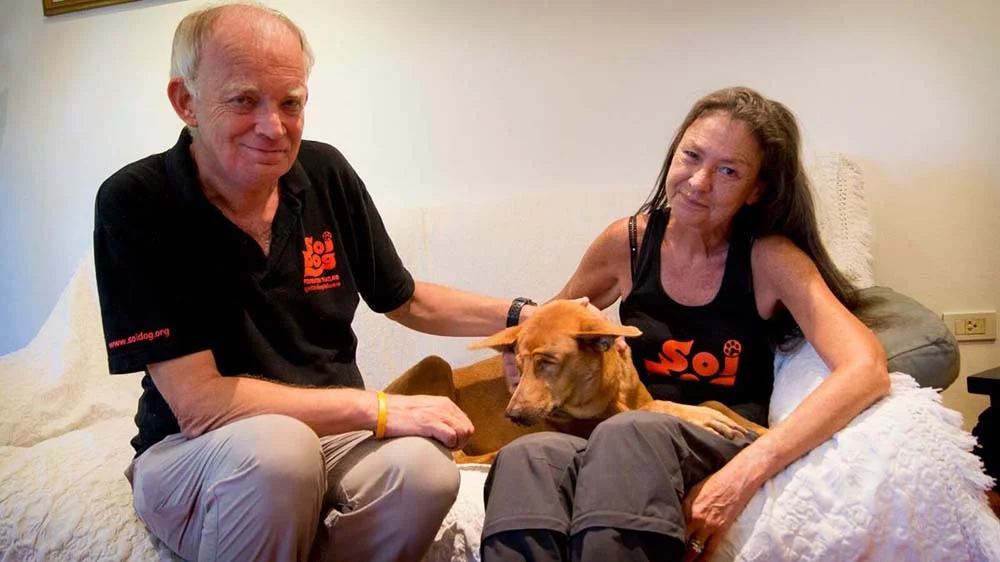 John and Gill's Story | Credit: Soidog
John Dalley, in October 2020 was awarded in the Queen's Birthday Honours List an MBE (Most Excellent Order of the British Empire) for his services to animal welfare in Southeast Asia. The award comes at an exceptionally challenging time in Soi Dog Foundation's history. Like many charitable organisations, Soi Dog has been hit hard by the COVID-19 crisis. The rescue shelter has faced severe overcrowding this year, with abandoned animals arriving en masse. Thankfully, the foundation has refused to close its doors to animals in need, and has constructed new dog and cat enclosures and purchased additional land. John believes that legislation, education and large-scale sterilisation programmes are the best hopes for a brighter future for the animals of Thailand. 
| | | |
| --- | --- | --- |
| |   | |
| Wallop Joe P. Luengdhama | Credit: Fackbook - Tree Tops Elephant Reserve |   | Louise Rogerson | Credit: Fackbook - Tree Tops Elephant Reserve |
Tree Tops Elephant Reserve was founded in 2019 by Wallop Joe P. Luengdhama and Louise Rogerson. Louise has dedicated over a decade of her life to work with and protect elephants who have previously worked in logging, trekking, entertainment and begging industries. 
The sole aim is to rescue and retire these beautiful captive elephants and offer them a real sense of freedom. The reserve is pioneering with its compassionate and gentle approach that allows their herd to wander freely with no human intervention. Contrary to popular belief, bathing with elephants does not put their welfare first; it is stressful for them, dangerous for guests, unhygienic, and unethical. Tree Tops is currently offering private tours with the founder, Louise Rogerson. Other than guests being able to enjoy feeding the elephants, the tour is a strictly hands-off experience which allows guests to revel in the wonder of elephants in nature and observe them interact in their family units as they would in the wild.
The park is an extraordinary tree-lined paradise that is interspersed with cooling natural pools. The reserve also offers a safe haven for an abundance of migrating wild birds, with daily sightings of egrets and eagles soaring the skies. Butterflies, bees and dragonflies can be seen frolicking in the breeze, whilst other indigenous creatures explore the thick jungle undergrowth. The resident cats and dogs usually explore their day away or nap in the peace and quiet, only to be woken by happy elephant trumpeting. 
As Mahatma Gandhi once said, "The greatness of a nation and its moral progress can be judged by the way its animals are treated".  Let us continue together to make our beautiful land a better place.