Your first experience of the magical underwater world will be one of the most memorable things you ever do. You'll feel effortlessly weightless as you slowly submerge yourself into the temperate turquoise waters of the Andaman Sea. The underwater gardens are bursting with colour and fizzing with seemingly endless species of fishes.
The PADI Junior Open Water Diving Course is available for children as young as 10-years old. Your adventurous little person will learn all about the theory of diving. Topics cover how water pressure affects their body when underwater, how to plan a dive safely, and how to use SCUBA (self contained underwater breathing apparatus) correctly. During the course, they will read a manual, watch various informative videos, take part in some fun quizzes, and sit a final exam.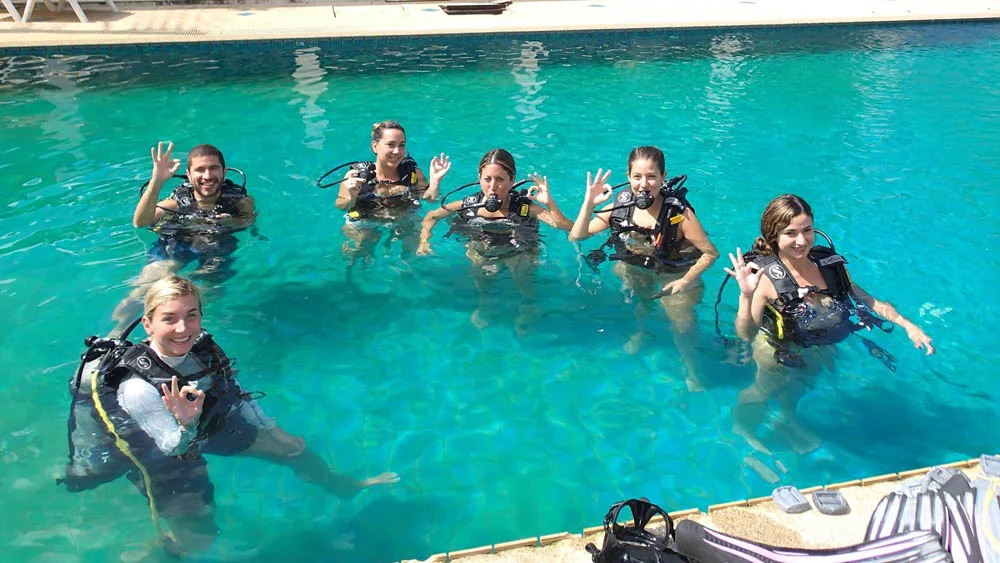 Do I Need To Know How To Swim To Scuba Dive? | Credit: aussiediversphuket.com
Before they can head out to sea, they will practice various skills in calm, shallow pool-like conditions. They will learn how to set up their SCUBA gear, practice emergency skills such as sharing air, and how to effortlessly remove water from their mask without surfacing. 
Once they have mastered the skills and feel comfortable with the theory behind diving, they will head to the open waters to demonstrate their skills. They'll have fun with their buoyancy as they watch schools of barracuda pass by or shoals of orange anthea's dance in the shallow waters, watch lone stingrays fly overhead, or anemone fish hiding in their own eco-reef.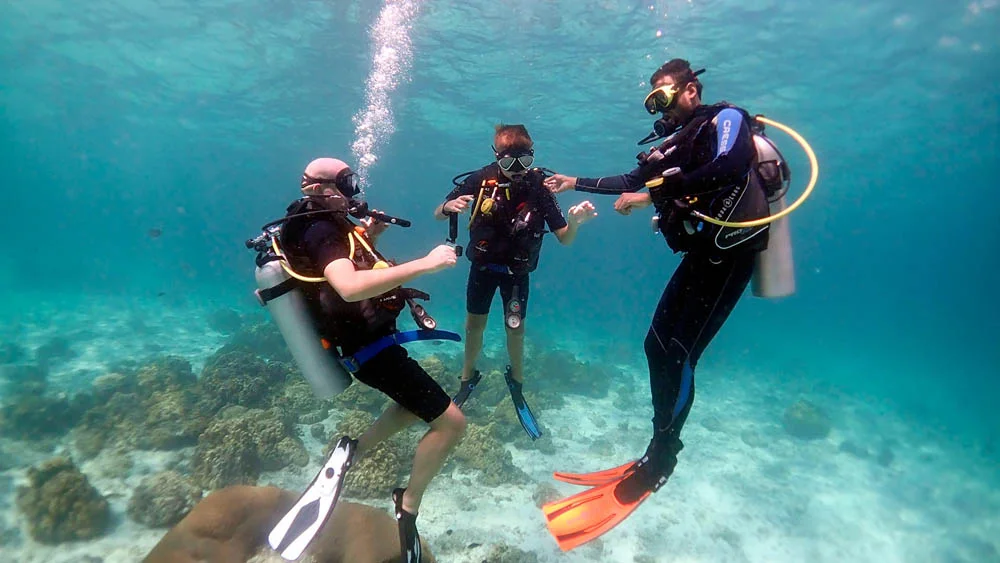 PADI Phuket Scuba Diving Courses For Children | Credit: localdivethailand.com
Junior open water divers up to 12 years old have a slightly shallower maximum depth of 12 metres. At the same time, children over 13 can dive to the full 18 metres. At the age of 15, they automatically become an open water diver. The children who successfully complete four open water dives and demonstrate their skills will be presented with a Junior Open Water certificate and PADI ID card.
Thailand boasts some of the most spectacular and crystal clear waters in the world. Phuket offers some incredible sites such as Shark Point. This is a protected 'living reef' and was declared a sanctuary in 1992. You and your children can watch hunting trevallies, spot huge schools of fusiliers out in the blue and revel in the kaleidoscope of vibrant soft corals. The sandy floors are home to lazing leopard sharks whilst bamboo sharks hide neatly under coral ledges. Keep your masks clear for minuscule shrimps, tiny boxfish, cheeky moray eels, brave lionfish, and intelligent octopus.
Further afield is the protected Phi Phi National Marine Park and the Koh Haa, Hin Daeng and Hin Muang Islands. These sites offer spectacular underwater limestone walls, caverns, and swim-throughs covered in giant gorgonian fans and beautiful soft corals. You'll have a good chance of seeing Jackfish, snapper, manta rays, various reef sharks, and if you are very lucky, the impressive whale shark at certain times of the year. 
The Marine National Parks of the Surin and Similan Islands have attracted divers from around the world for decades. Various sites brim with over 200 hard coral species that grow on towering walls and pinnacles and are interspersed throughout magnificent coral gardens. Endless tropical fishes flit busily around their homes as barracuda and Jackfish hungrily patrol. Turtles, giant trevallies, and reef sharks abound. Richelieu Rock is on every divers bucket list and is known to be one of the world's best dive sites.  
There are numerous diving schools and qualified instructors in Phuket who can teach your child (and you) how to dive. It's truly the most otherworldly experience and will give your child endless confidence and a firsthand understanding of our planet's fragility. PADI offers a lifelong platform of learning, exploring, and offers unique employment opportunities around the world.