Thailand, and Phuket, in particular, is renowned for its extreme sports. Whether it's the islands gruelling Iron Man, endless cycling challenges, brutal countrywide Muay Thai training camps or the punishing UTMB trail running in Chaing Mai. Residents from across Thailand and international visitors flock from around the world to be assaulted by heartless trainers at numerous events and resorts across the country. 
Home in Phuket Discover a few of the favoured sporting facilities in Phuket.
Thanyapura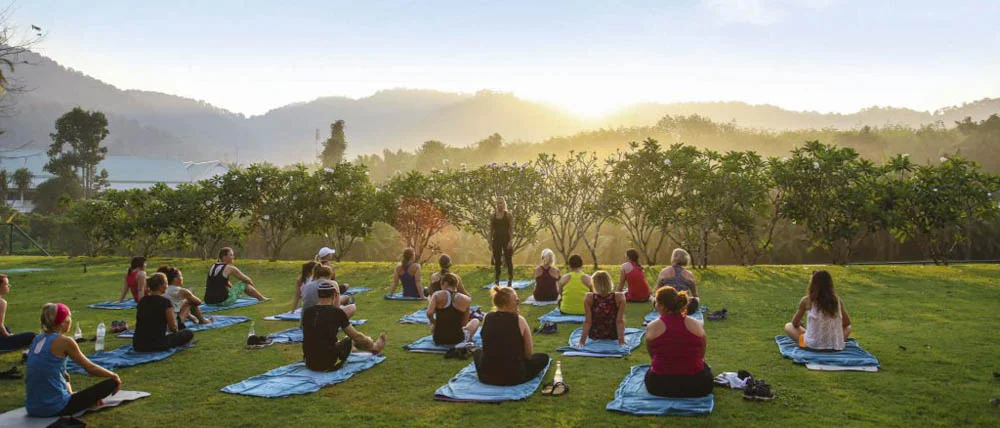 Thanyapura Sports & Health Resort | Credit: thanyapura.com
Thanyapura is the crowning glory in Phuket and boasts the finest sporting facilities on the island. Situated at the foot of a national park and surrounded by jungle landscapes, the integrative health centre offers mindful services and expert coaching. Guests will see an improvement in their athletic performance and overall health by having an inspired mind and a sense of wellbeing. They place emphasis on developing the mind, body and soul with their three-dimensional approach. 
The Thai word Thanyapura means 'land of abundance' and embodies the core belief that connection to nature, mentally, physically and spiritually is essential. Guests are encouraged to re-balance, re-energise their bodies and re-set their lifestyles so that they look, feel and perform their best.
The Thanyapura Health Centre offers many treatments and wellness plans that are intentionally designed for those looking to improve their quality of life. The onsite doctors, nurses, dietitians and advisors are experienced in working together to create effective programmes so guests can achieve their wellness goals during, and after their stay.
Oceanic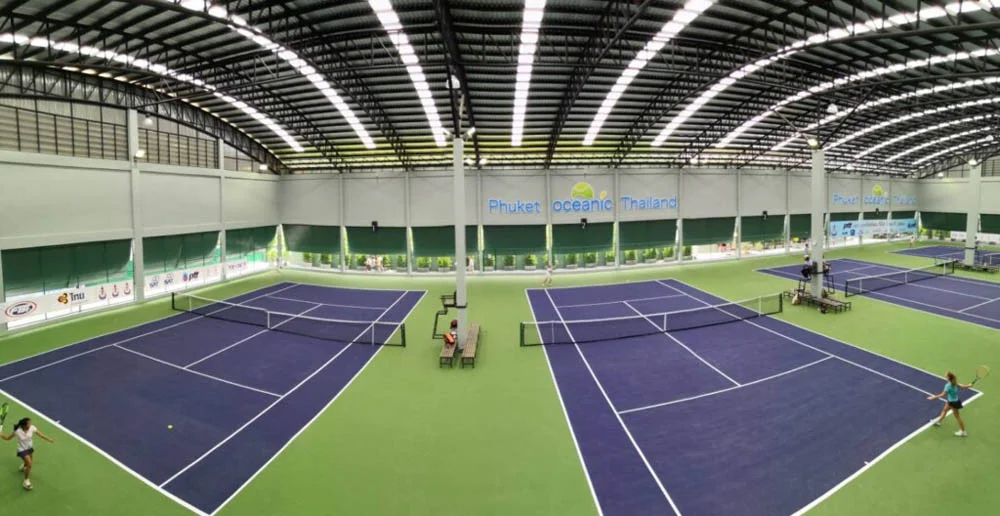 Phuket Oceanic Thailand | Credit: phukettennisleague.com
Oceanic is a tennis academy set in a futuristic sporting complex that offers world-class tennis courts, a gymnasium and shopping mall. 'Boy', the founder and inspiration behind this topnotch facility is keen to afford sportspeople of all ages and levels, diverse fitness and tennis programmes. 
Two outside and four inside full-size tennis courts boast Plexipave flooring. This advanced tennis surfacing system offers players the highest level of surface performance for competition and training. The sizeable 400sqm premium fitness centre is equipped with award-winning sporting equipment from Lite Fitness. This brand has been building athletes for over 25 years.   
The pride of the state-of-the-art fitness centre is its team who employ the use of modern teaching techniques and have an extensive course selection.  The coaches have been hand-picked from around the world. They are the finest in their field, have represented Thailand in various championships and hold sports-related qualifications.
Unit 27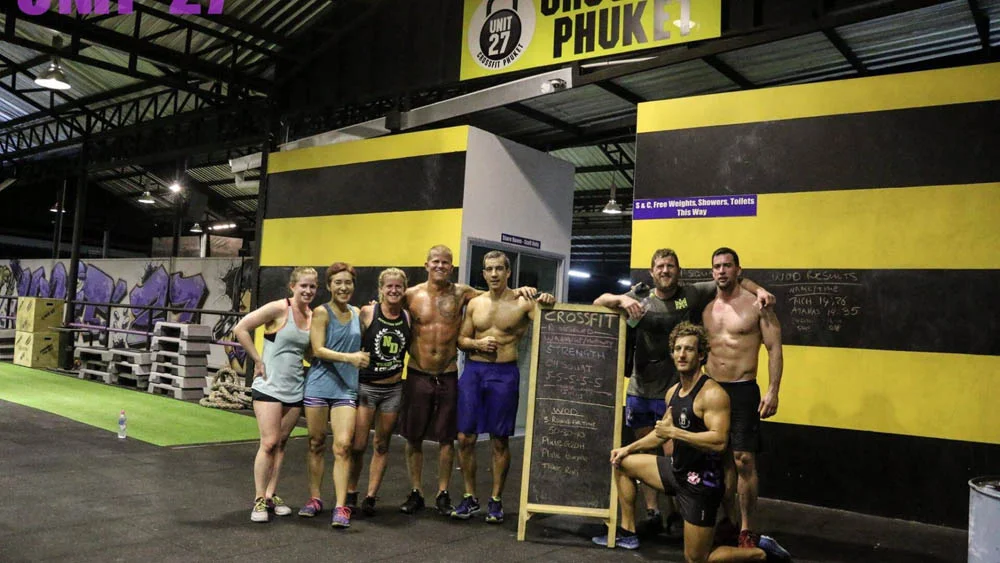 Crossfit phuket | Credit: unit-27.com
Unit 27 is the first official CrossFit-affiliated gym in Phuket. It is a custom-built fitness, weight loss and body conditioning centre. Their motto is 'Go hard or go home' which is apt considering all they offer is incredibly intensive training. State-of-the-art equipment includes Olympic-standard weightlifting, a wide choice of workout machines and more specialised CrossFit equipment. They also have a high-quality Swedish sauna and ice baths.
Their strength and conditioning discipline focuses on the entire body for rapid weight loss. It also shows enormous improvement in body power, core stability, agility, endurance, speed, and overall performance. The popular Unit 27 high-intensity weight loss programme is a scientifically proven and highly effective form of strength training. The training focuses on performing quality weight training repetitions to the point of temporary muscular failure for rapid body transformation.
Core stability and flexibility classes are also known as holistic workouts. They will improve flexibility, core strength and body conditioning. Expect to flatten those abs, strengthen muscles, lose weight and improve posture with one of the popular Yoga or Pilates classes. Advanced fitness training challenges personal boundaries in every way and the classes are not for the faint-hearted. 
Tiger Muay Thai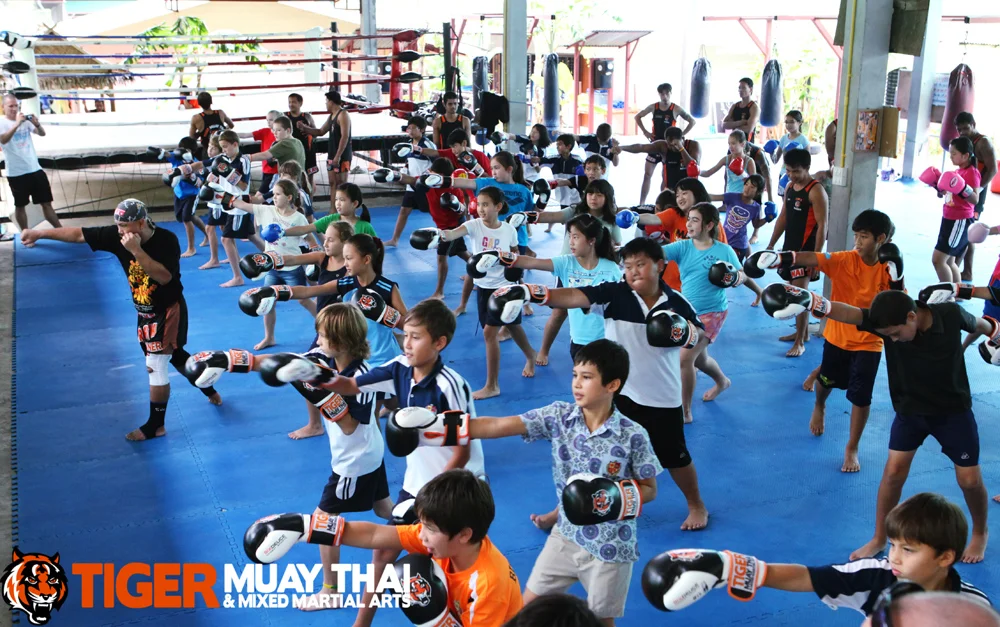 Tiger muay thai & mma goes to the kids | Credit: tigermuaythai.com
Muay Thai is the well known fast-paced combat sport that combines boxing and kicking at speed. The sport is also 'affectionately' known as the 'art of eight limbs'. This refers to the eight points of contact that are used during the fight - fists, kicks, elbows and knee strikes.
Tiger Muay Thai takes its name from the Twin Tiger Sak Yant Tattoo. It is common amongst Thai people who have dangerous occupations or are Muay Thai fighters. The Tiger represents strength, power, protection and conviction, as well as authority over one's subordinates. The training centre is thought to be the most extensive Muay Thai, mixed martial arts and fitness camp in the world.
Tiger Muay Thai is the preferred training ground for some of the most elite athletes. It brings authentic training to people of all levels. They offer programmes for all abilities, fitness and physical limitations. There are over 30 dedicated trainers who will guide individuals or groups through fitness regimes and diet plans so that guests can be their very best.