John Gray is a bit of a legend in Phuket. He's affectionately known as 'The Caveman'. He has been navigating sea kayaks around the isle of Phuket and the hongs, caves and lagoons of Phang Nga Bay for over a quarter of a century. He's rather cheekily known as Ling Yai to staff and friends alike, which means 'Big Monkey'.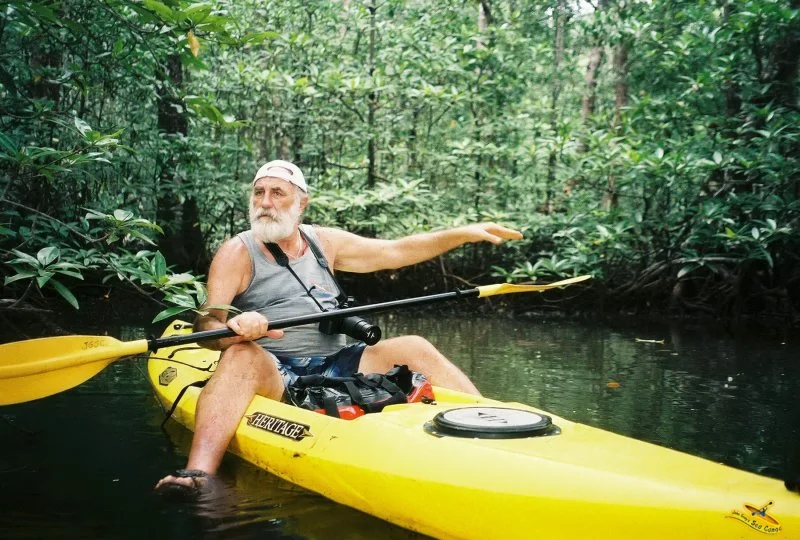 Sea Kayaking with John Gray | Credit: johngray-seacanoe.com
John has a larger-than-life personality, which suits him as he's a hulk of a man at almost two-metres tall. He's appeared in numerous television productions and National Geographic Magazine telling his tales of his adventures in the Andaman Sea. John is originally from California and has had a deep love of exploring and environmentalism since he was a young boy. His love of animals and nature came from his mother, who loved and nurtured animals big and small.
Phang Nga Bay is probably best known for its towering limestone karsts and the famous James Bond island which was eponymously named after Mr Bond.  The movie, 'The Man with the Golden Gun', was partially filmed here in 1974.  

Sea Kayaking with John Gray | Credit: johngray-seacanoe.com
Koh Hong is a cluster of four closely-knit islands that hide the beautiful Hong Lagoon from the outside world.  One of John's custom-built kayaks will allow you access to this Aladdin's cave of natural beauty.  The National Park protects the islands, and the lagoons are only accessible at low tide. You'll see macaques, giant monitor lizards, kingfishers, mudskippers, egrets, soaring sea eagles and brahminy kites in the hidden cliff-lined lagoons as you peacefully glide across the calm waters.
Koh Panyi is a seemingly floating settlement established at the end of the 18th century by nomadic Malay fishermen.  During these times, it was forbidden for any other nationality, other than Thais, to own land here, so the fishing village was built on stilts.  In more recent years, the Muslim community built an impressive mosque.  Also, on this island is a football pitch that hosts Koh Panyi FC.  The local boys created a football team that is now one of Thailand's most successful youth clubs.
Further past Koh Panyi, you will reach spectacular mangroves, where you can explore caves and shimmy through the roots of these ancient trees.  Keep your eyes open for walking fish, families of otters, bats and various lizards.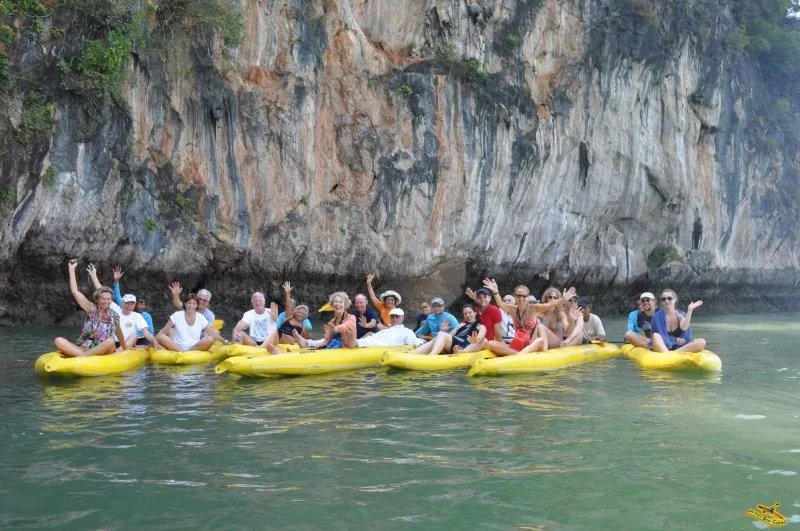 Sea Kayaking with John Gray | Credit: johngray-seacanoe.com
John and his entertaining guides offer an introductory tour of Phang Nga Bay where you'll experience an afternoon and early evening excursion and meander through the towering karsts and hongs. First, you'll dine on their delicious home-cooked organic masaman curry. You will float a loy kratong (flower boat) under the stars and experience the dinoflagellates, the incredible bioluminescent plankton. On the way back to Phuket by boat, you'll feast on a traditional freshly-caught seafood buffet. 
John also has a full day trip where you can also experience the thrill of a long-tail boat. For those who don't know, a long-tail boat, or ruang hang yao, is native to Thailand and quite literally has a long pole, or tail that serves as the rudder and propeller. This is attached to a recycled tractor or car motor that propels the boat at considerable speed and volume. 
John Gray tours can also whisk you away on an expedition of a lifetime and take you to some of the most spectacular and remote spots in the southern region. The most extended trip spans three exciting days and two nights where you'll camp in Phang Nga bay and an island just off the Krabi coastline.