Phuket can endlessly boast about its beautiful beaches and rightly so. There are still some hidden gems around the island that offer isolation and tranquillity. Here's the lowdown of Home in Phuket's six favourite beaches, in no particular order.
 
Banana Beach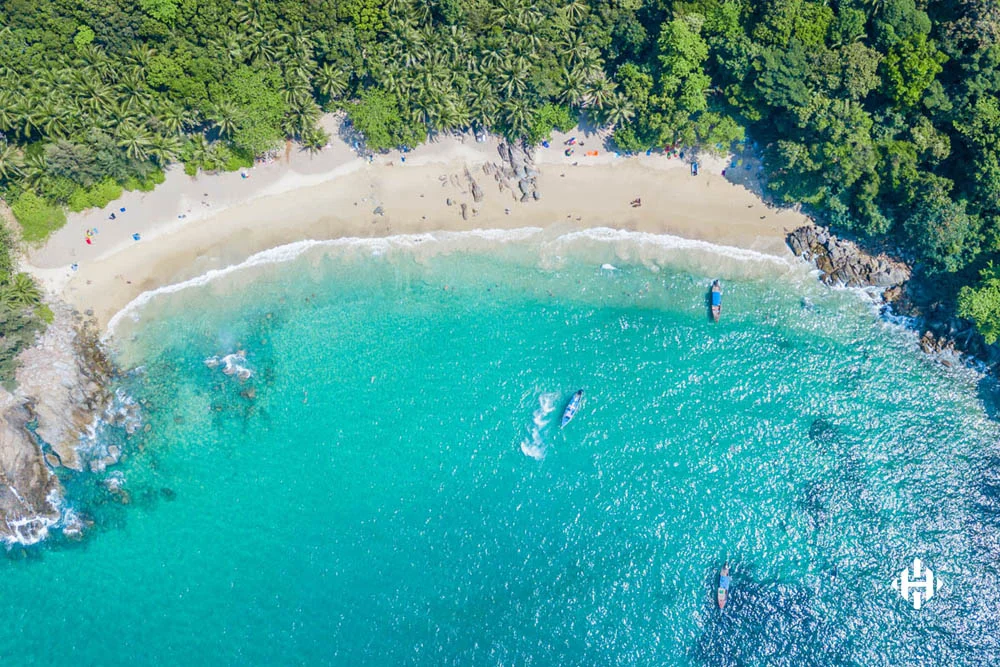 Aerial view of sandy beach with tourists swimming in beautiful clear sea water. | Credit: Avigator Fortuner on Shutterstock
Banana Beach is accessible by road and a rather steep walk or by chartered boat. With almost 200 meters of pristine white sandy beach in a secluded cove, it's well worth the wander off the beaten track. Clear warm waters, a little beach bar and a smattering of people on a busy day are all you can expect. Located between Bang Tao and Nai Thon, this beach isn't known by many. This is what Thailand is all about. Peaceful waters that are perfect for floating, swimming and snorkelling. 
 
Layan Beach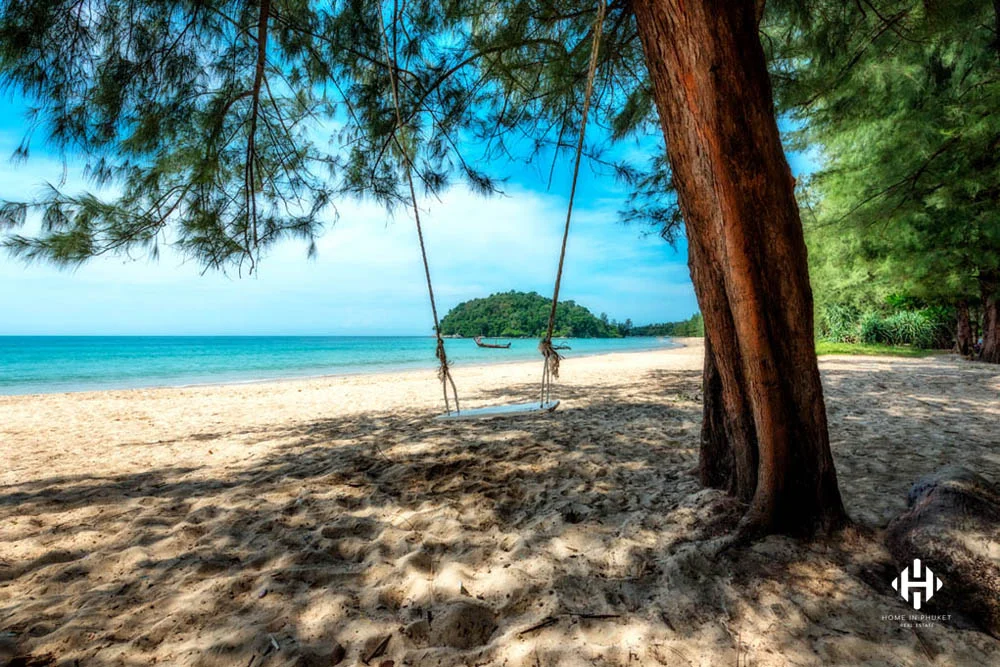 Swing, Layan beach | Credit: Davide Scio on Shutterstock
A long stretch of beach that lies quietly between Bang Tao and Layan is lined with towering pine trees that provide a welcome respite and shade from the sun. The 6 km stretch boasts calm waters and soft white sand. At the northern end of the beach lies the little island called Koh Kala which is accessible by a short swim or a stroll at low tide. A little river leads to a small fishing village and the humble dwellings in which the fishermen live. This beach offers some of the most spectacular sunsets. Part of the beach is under the protection of the Sirinat National Park. 
Panwa Beach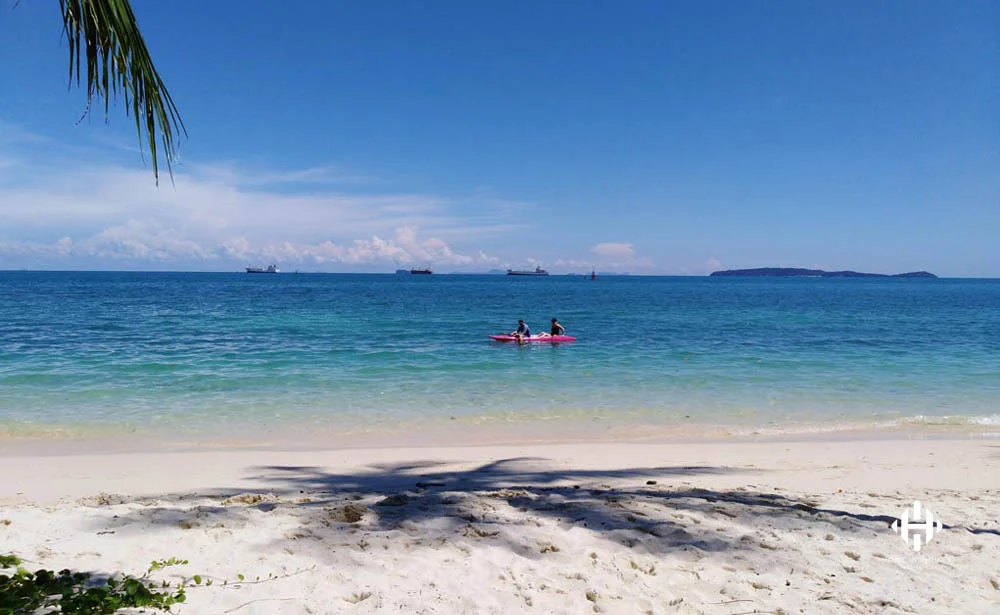 Two men canoeing at Panwa beach in phuket thailand | Credit: TaraOnny on Shutterstock
Panwa Beach, or as locals refer to it Khao Kad Beach, is one of the quietest and least known on the island. This beautiful beach is set on the east coast, a short drive from Cino-Portuguese inspired Phuket Old Town. Here, the beach is fringed with tilting palm trees and the sands are slightly courser and the waters choppier which make swimming a little more challenging, but this also keeps away throngs of tourists. The beach has spectacular views of Chalong Bay and Lone Island.
Laem Ka Beach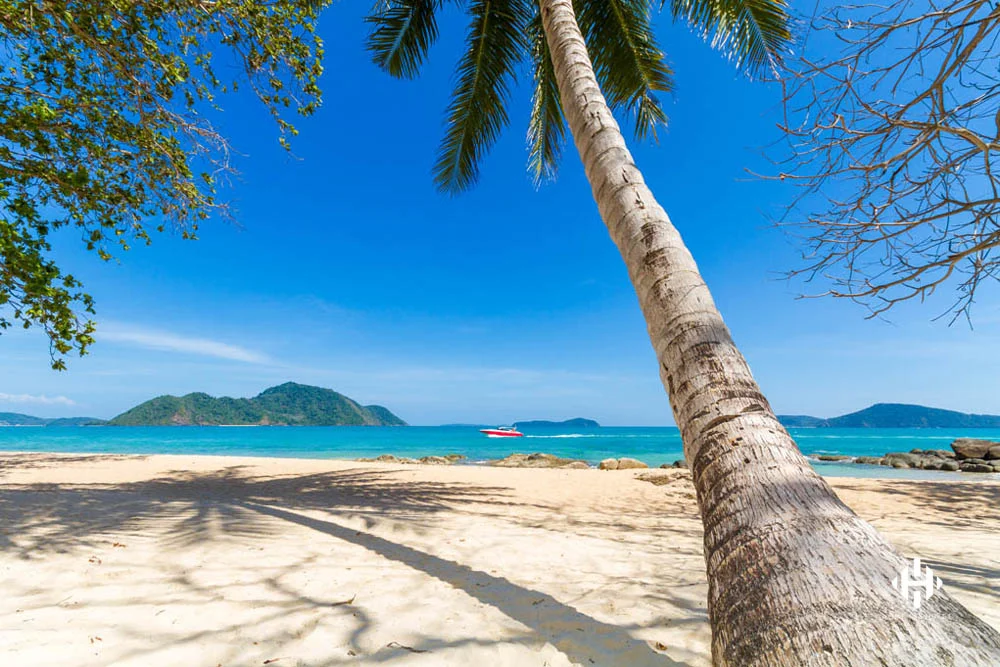 LAEM KA BEACH in Phuket island Thailand | Credit: Netfalls Remy Musser on Shutterstock
The eastern coast of Phuket is notoriously dangerous for swimming, particularly during the monsoon seasons. The seas can be very choppy and have strong undercurrents. However, Laem Ka is a sheltered beach located in the south of Phuket near Rawai and is the only beach that is swimmable on this coast. Hightide offers enchanting snorkelling options, and the beach commands incredible views across the open seas. 
Freedom Beach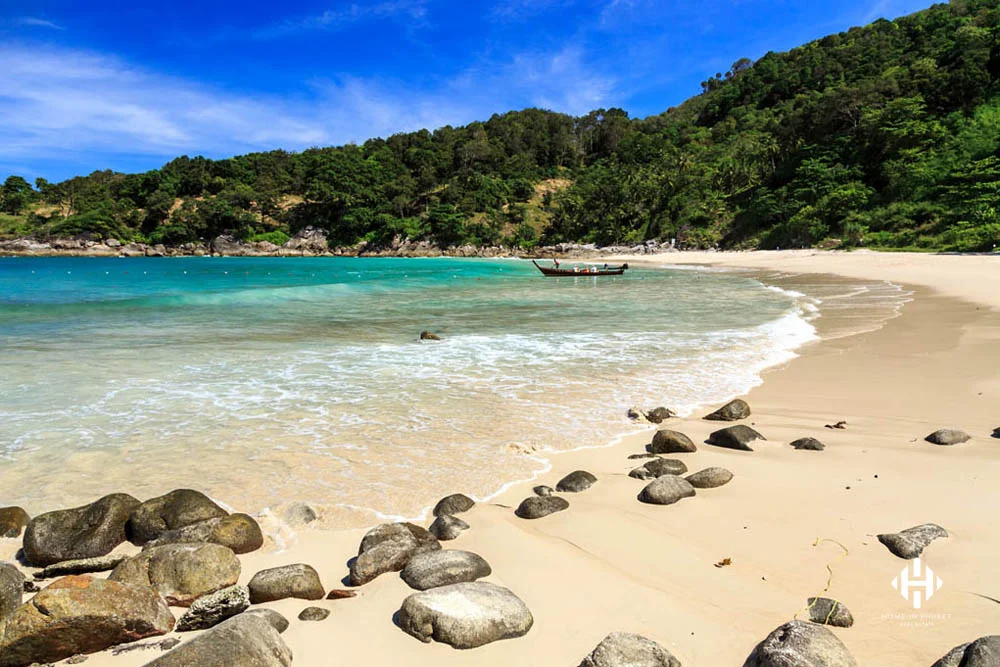 Gorgeous Freedom Beach at morning, Phuket, Thailand | Credit: Dima Fadeev on Shutterstock
Although Freedom Beach is only minutes away from pleasure-seeking Patong, it might as well be a million miles away. This natural oasis is accessed either by a very steep and somewhat challenging incline or a long-tailed boat. Either way, the effort is well worth it. The nature is breath-taking, and the sea is the vibrant turquoise colour that appears on postcards from Thailand. Perfect for relaxing and swimming. 
 
Pansea Beach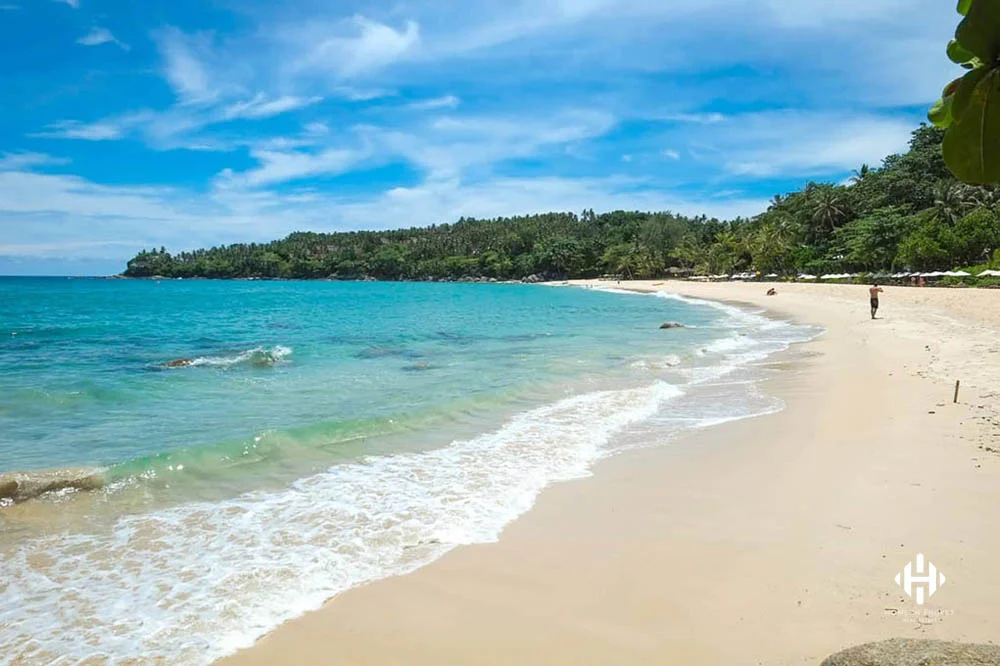 Pansea Beach Phuket | Credit: Pansea Beach on luxuryvillasphuketthailand
This beach lies discreetly between the Surin and Amanpuri hotels and is only accessible by hotel guests or by boat. This soft-sandy beach is dotted with rocky outcrops and is very peaceful. The west of Phuket boasts the best sunsets on the entire island, so ensure that at least one sunset is experienced along this breath-taking coastline. Preferably on a private yacht.