What are these mysterious places I have to go that I've never even heard of you ask? Well, if you've never indulged in this currently trending culinary experience, it's time to get on board. Both boutique and chain shabu-shabu restaurants have been operating modestly around Thailand for a long time, however, recent years have seen an exponential increase in popularity with Phuket being a case in point. 
What is shabu-shabu?
Good question! Shabu-shabu specifically comes from Japan, but dates back to China, and is a type of hot pot-style meal. Hot pots typically consist of a pot of broth simmered right there on the diner's table, traditionally over a charcoal-fired clay cooker, which have now largely been replaced by electric burners. Nowadays it's common to find the pots divided in two for two different broths.
A variety of meat, seafood, vegetables, and tofu are delivered thinly sliced along with dipping sauces and, in Thailand, minced garlic and chilies. It's an all-you-can-eat affair with some restaurants imposing a time limit. The sauces and broth are important details that can set apart shabu restaurants. 
Diners gradually add the ingredients to the broth themselves and season to individual taste. Although it's tempting to empty the plates into the broth straight away, discerning shabu-shabu enthusiasts have a method to the madness. Start with the meat (unless of course you're vegetarian) to begin building the foundational flavors, next add the vegetables that take longer to cook such as carrots and shitake mushrooms, then lastly come ingredients like tofu and cabbage which cook quickly. 
Shabu Indy
With one location in Thalang and the other located in the heart of Phuket Old Town between Phang Nga and Ratsada Roads, this hot hot-pot spot is rarely empty. This place ticks all the boxes: tasty food, good service, reasonably priced, and no time limits. If you're like me and eat at a snail's pace, the lack of time limit is a nice luxury.
Shabu Indy's prices range from 259 to 499 baht per person. The basic set includes pork, beef, shrimp, and seafood, while other sets also include Australian beef, a variety of sushi and sashimi, Wagyu beef, scallops, and more. You can choose two of five different broths and the Chinese-style "mala" with its rich, exotic flavors comes recommended. Drinks and ice cream are also included so remember to save a little space.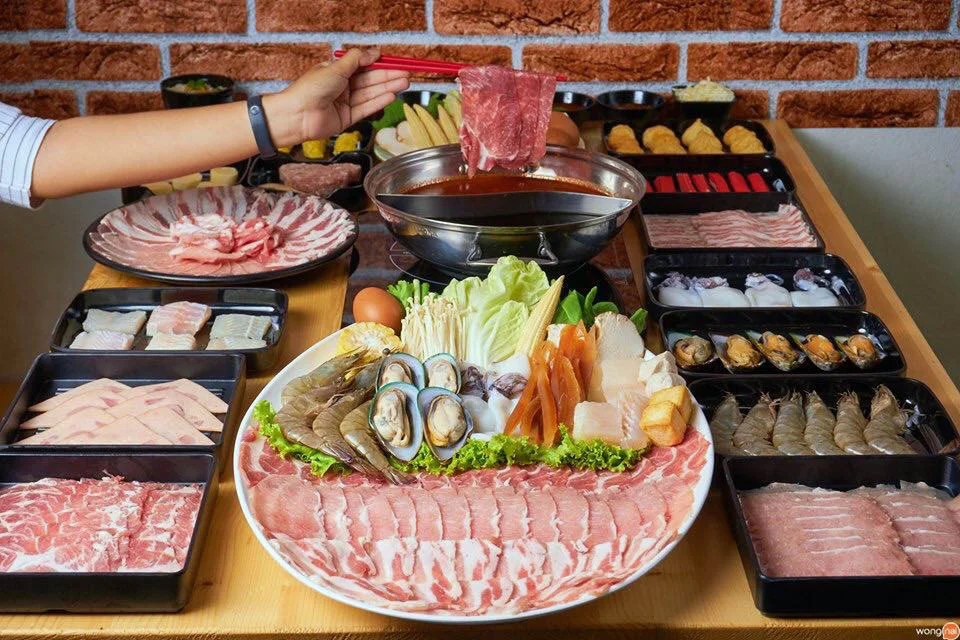 Shabu Indy | Credit: Facebook Shabu indy Phuket
Shabu De Bear
Just down the street on Ratsada Road is another delicious shabu-shabu joint worth putting on your list of restaurants to visit in Phuket (you do have one of these lists, don't you?). It's in many ways similar to Shabu Indy with some variations in dishes and flavors. 
Several different sets are on offer from 399 to 999 baht. They also have five broth options with their own signature creation and a savory seaweed version. You'll discover some interesting creations like purple sweet potato shrimp tempura and a fried salmon skin roll draped in Wagyu beef and tom yum flavoring.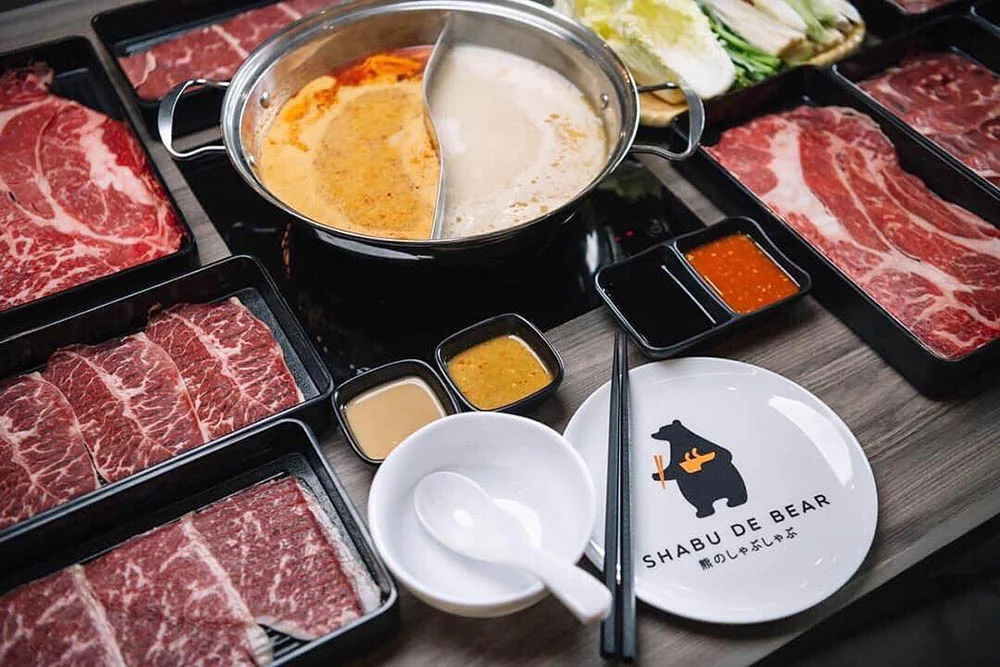 Shabu de bear | Credit: Facebook Shabu de bear Phuket
Shabu-Shabu by Phuketboi
Open every day, this chic joint is prepared to satiate that shabu-shabu craving. 
Once again you'll find five broth options (five is a lucky number in Chinese culture) with everyone's favorite traditional tom yum and a unique mushroom broth. Prices range from 268 to 399 with the basic set coming with a wide range of items from shrimp, pork, squid, several types of mushrooms, seaweed salad, takoyaki, several zingy sauces, wide selection of drinks, and of course that ice cream that you will forget to save room for.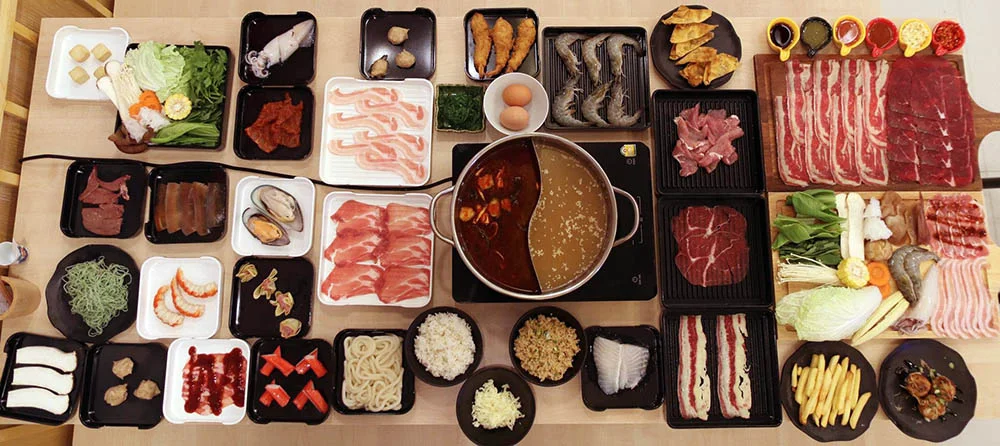 Shabu boi | Credit: Facebook Shabu Shabu by Phuketboi
Shabu San
Shabu San is conveniently located behind Chillva Market in Samkong, which means you can just shop your heart out until you've worked up a shabu-worthy appetite. 
At this quaint restaurant you get two hours on the clock and two sets to choose from at 299 and 429 baht – the main difference being 10 additional options, five of which are various beef cuts. 
Try the spicy miso broth and be prepared to devour copious amounts of their signature dipping sauce. 
Shabu San | Credit: Facebook Shabu San ชาบูซัง
Shabu Lion
Although quite new on the shabu scene, the whispers around town proclaim that it's top-notch.
Shabu Lion brands itself as "premium shabu shabu" which is pretty accurate considering their offerings. Three sets range from 599 to 999 baht per person and with the first set including several types of beef, pork, chicken, shrimp, mussels, salmon, and other a la carte goodies like spicy salmon salad and pork tonkatsu. If that's the base set, you can only imagine where it goes from there with tons of sushi options like unagi (fresh water eel), and seared salmon as well as Wagyu black angus beef, tuna sashimi, and river prawns. Here you can have three different broths including their signature sukiyaki lion broth.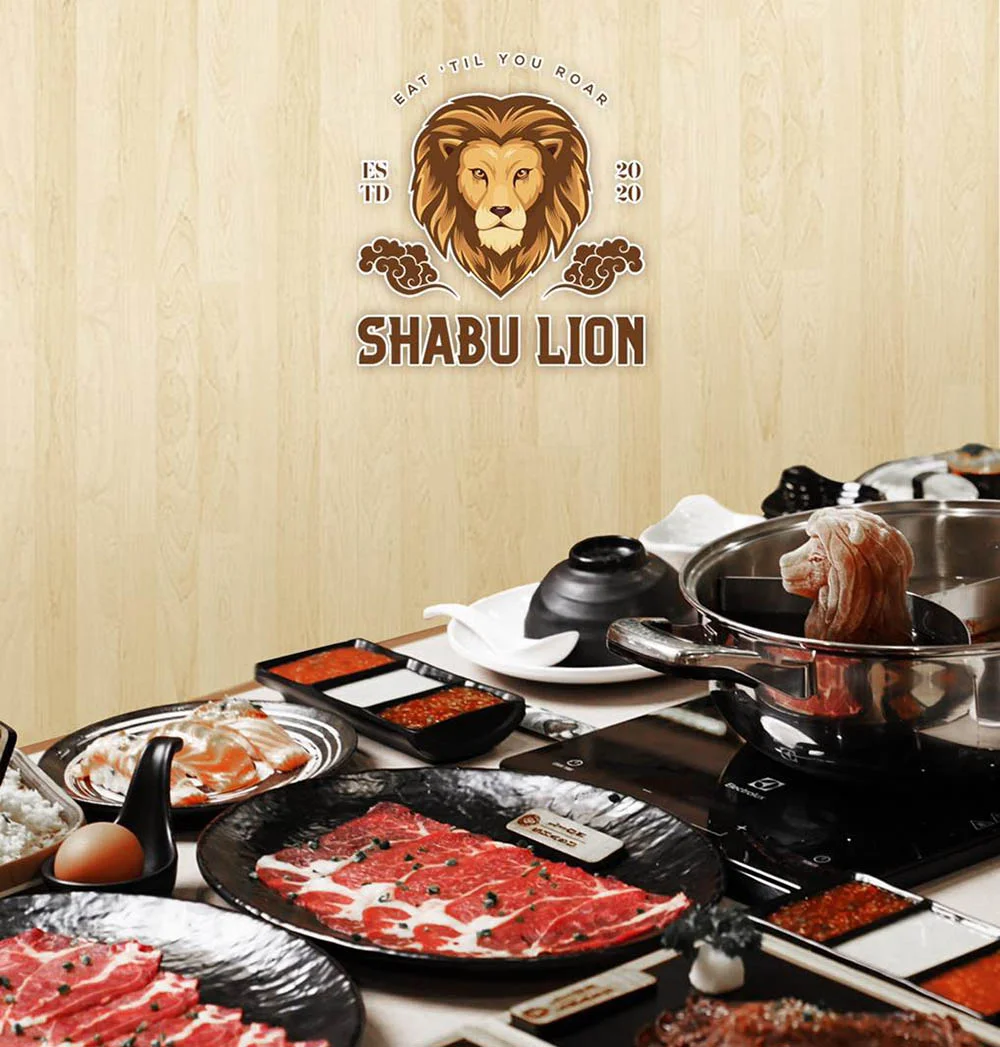 Shabu Lion | Credit Facebook Shabu Lion - Premium shabu and japanese buffet Phuket