Taking to the high seas from the shores of Phuket is a must on any bucket list.  Imagine exploring hidden coves and magical islands under the guidance of an experienced captain.  Escape the madding crowds of tourists that flock to the island each year in search of sun, sea and sand.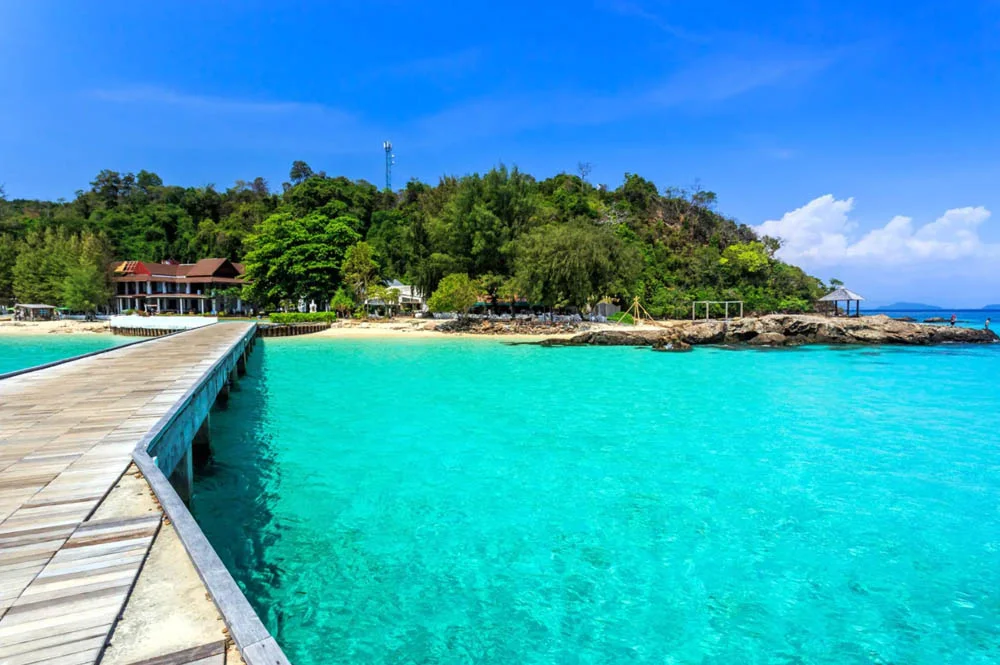 Maiton Island Private Island Near Phuket | Credit: Hotels.com
Maiton Island
Maiton, a private island is just nine kilometres off the south-east coast of Phuket.  Be one of the privileged few and watch wild dolphins riding in the clear waters of the yacht's wake.  Beneath the turquoise waters that encircle the island is a thriving coral sanctuary, which is home to over 400 species of fish and magnificent marine life.  Alternatively, head to Koh Rang Yai, a peaceful island five kilometres from the east coast of Phuket.  Rang Yai has a mysterious southern drift-current that takes you from one end of the island to the other.  Try it, it's great fun.  Here, there are shady walks through the tree-lined paths of the island.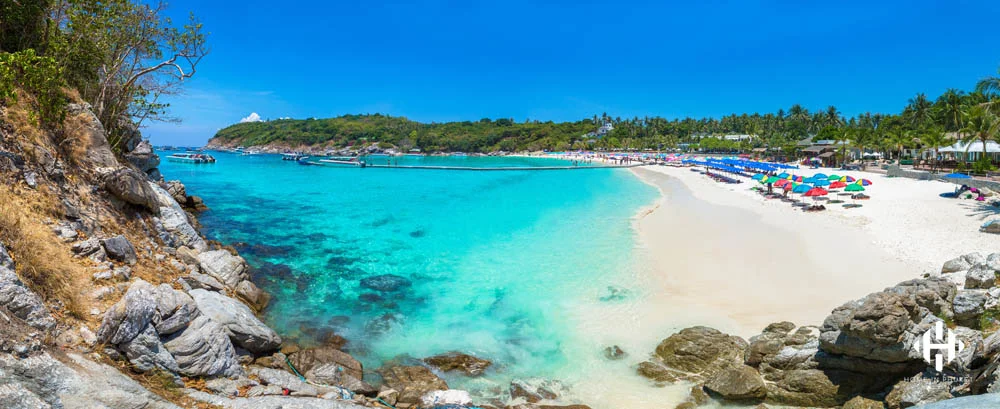 Panorama of Racha (Raya) resort island near Phuket island | Credit: Shutter Stock by S-F
Koh Racha Yai and Koh Racha Noi
Approximately 20 kilometres from the southern tip of Phuket island lie two islands that are enveloped by crystal clear waters and white sandy beaches - Koh Racha Yai and Koh Racha Noi. Racha Yai is home to Muslim farmers and fishermen, some glorious beach-front restaurants and a smattering of resorts.  The water surrounding the island is pristine and offers incredible diving and snorkelling opportunities.  This island is popular with day-trippers from Phuket in the afternoons, so it's best to reach this island in the morning for a sense of peace.  After dining on the powdery white sands, jump back on board and head to Racha Noi.  This island is uninhabited and has some stunning outcrops of rocks around its coastline.  There is little to do here other than explore, snorkel or soak up the sun's rays. Sail back to Phuket feeling relaxed and unwound from busy life.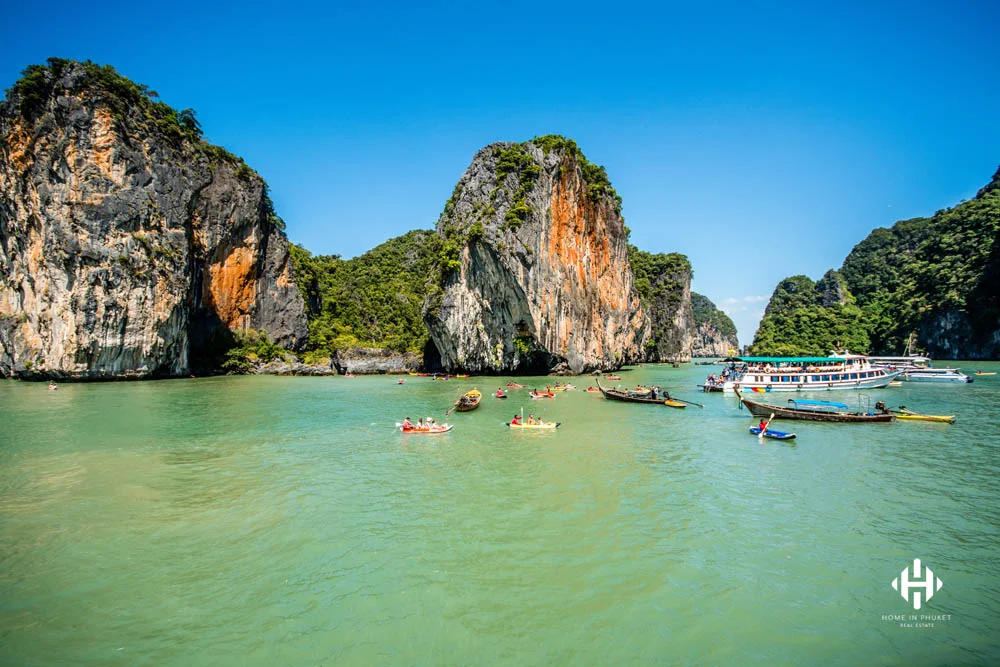 Canoeing at Koh Hong Island Phang Nga, Thailand | Credit: Shutter Stock by Somchai Jeamteerasakul
Koh Hong and Phang Nga Bay
Phang Nga Bay is probably best known for its towering limestone karsts and the famous island which was named after James Bond where the movie, 'The Man with the Golden Gun', was partially filmed in 1974.  
Koh Hong is a cluster of four, closely-knit islands which hide the beautiful Hong Lagoon from the outside world.  An inflatable kayak will allow you access into this Aladdin's cave of natural beauty.  The islands are protected by the National Park, and the lagoon is only accessible at low tide.  Boat captains recommend that arrival is early to avoid the peak times of the day.
Koh Panyee is a seemingly floating settlement that was established at the end of the 18th century by nomadic Malay fishermen.  During these times, it was forbidden for any other nationality, other than Thais, to own land here, so this fishing village was built on stilts.  In more recent years a mosque for this Muslim community was built.  Also, on this island is a football pitch that hosts Koh Panyee FC.  The local boys created a football team which is now one of the most successful youth clubs in Thailand.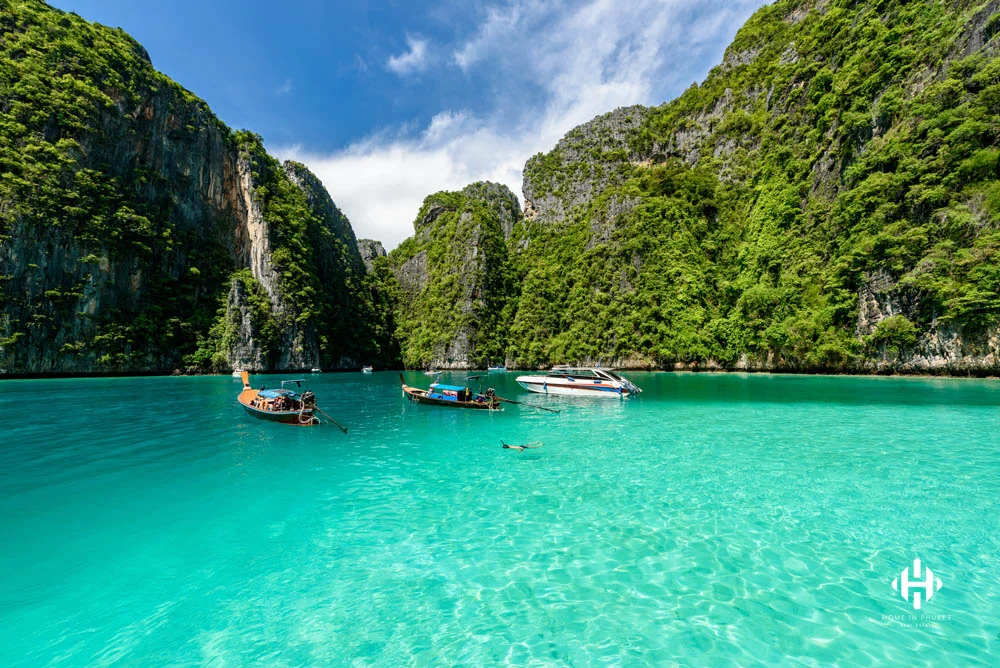 Beautiful crystal clear water at Pileh bay at Phi Phi island near Phuket, Thailand | Credit: Shutter Stock by 9MOT
Koh Phi Phi
There are six islands in the breathtaking archipelago known as Phi Phi and pronounced 'pee-pee'.  They lie 50 kilometres south-east of Phuket and are part of the Hat Nopparat Thara-Ko Phi Phi National Park.  This is home to an abundant coral and marine life, limestone mountains with cliffs, caves and endless white sandy beaches.  From various archaeological discoveries, it is believed that Phi Phi dates back to the prehistoric period and is one of the oldest communities in Thailand.  When approached by boat, the islands seemingly rise from the sea as an impenetrable stronghold.  The towering cliffs are met by powdery beaches and swaying palm trees.  It really is paradise.  Phi Phi has a rich heritage and houses a melting pot of nationalities and religions including Buddhists, Thai-Chinese, Muslims and even Chao Ley (sea gipsies).
In 2000 it became famous for its appearance in the British-American film, 'The Beach', starring Leonardo DiCaprio.  An increase in tourism was attributed to the film's release, which sadly resulted in environmental degradation and the closure of Maya Bay in 2018.  The good news is that nature is returning in droves, but the bay will remain closed until the eco-system has recovered completely.  2004 also saw intense devastation on the islands that resulted from the disastrous tsunami.
Railay Bay, Krabi, Thailand. | Credit: Shutter Stock by Avigator Fortuner
Krabi
Krabi is a spectacular province that is packed with limestone karsts, over 200 islands and virtually endless, softer-than-soft, white sandy beaches on the southern coast of the Andaman Sea.  Along the coast are various inlets which are crammed with lush mangroves and ceaseless wildlife.  Kayak adventures are one way of exploring nature, silently moving through the deep-rooted trees and cave systems which are home to some unusual fish, bats and several varieties of swift.  
Further south from Ao Nang is Raleigh Beach, an excellent destination for those with a streak of adventure.  Raleigh is renowned for its challenging rock climbing up towering limestone karsts.  There are hundreds of routes to choose from, the climbs vary and accommodate all levels of expertise.  For adventurous souls there is deep water soloing, perhaps more aptly known as psycho bouldering, they are challenging solo climbs with no harnesses – a fall results into a very wet landing into warm turquoise waters.