Thailand has long been on the radar of dive-geeks from all corners of the globe. Gulf of Thailand spots like Koh Tao, Koh Phang Ngan, Koh Chang, and Koh Kood promise oases of aquatic wonders for snorkelers and scuba divers alike. In the Andaman off the west coast, favorites are undoubtedly Koh Surin and the Similan Islands. The seas near these islands are blessed with a dazzling array of reef structures, the creatures that inhabit them, and vast schools of colorful tropical fish all colors of the rainbow. The fortunate are lucky to spot whale sharks, manta rays, and a variety of sharks in some locations.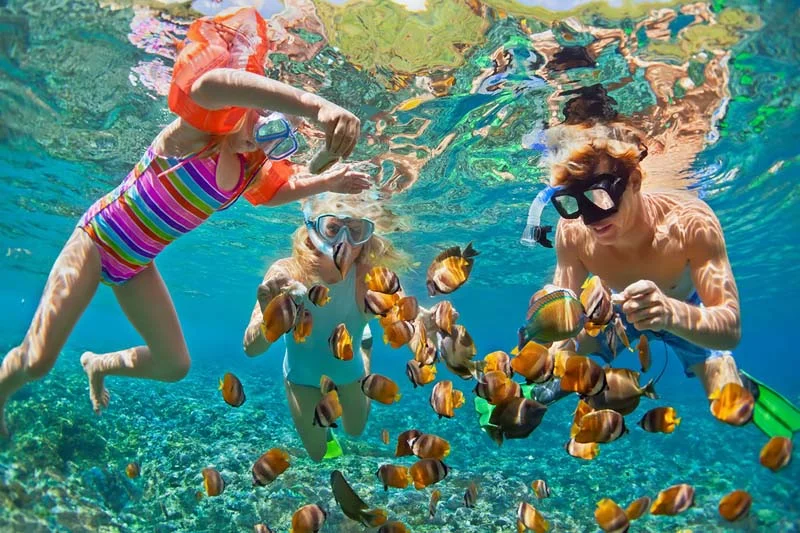 Snorkeling Cr: https://th.hotels.com/go/thailand/best-phuket-snorkeling-beaches
While it might be a stretch to claim that Phuket has diving as wondrous as the aforementioned locations, there are some areas that are relatively easy to access that can deliver intriguing underwater time to those who choose to explore them. It's important to note that a buoy or visible dive flag should be used at all times – Phuket's shores see lots of boat traffic and accidents can happen
Those who aren't interested in all that is entailed in organized trips offshore of Phuket Island do have some easier options to get in the water and catch a glimpse of the tropical underwater ecosystem. No matter where you are in Phuket, if you strap on a mask and snorkel and swim around near rocks or other underwater features, you're likely to at least spot some colorful fish. However, what you really want is coral reefs as these living structures are where all sorts of sea life congregate.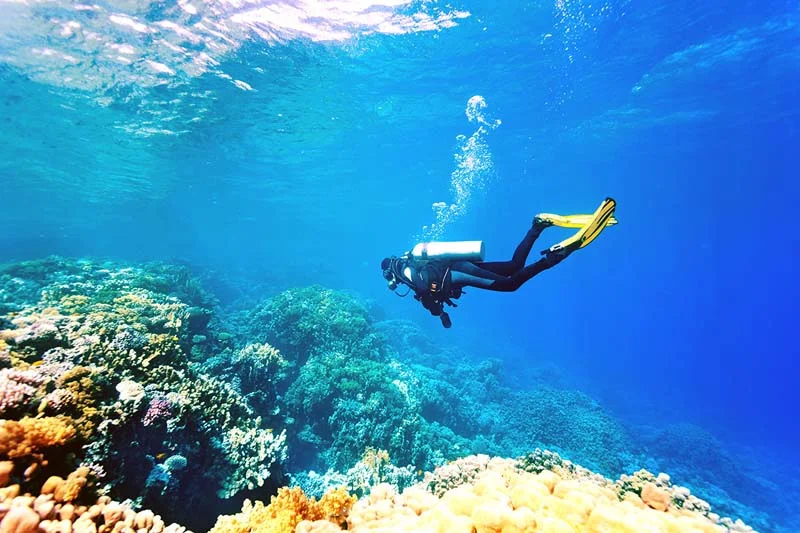 Scuba Diving Cr: https://www.agoda.com/travel-guides/thailand/phuket/nai-yang-beach-top-snorkeling-diving-kitesurfing-in-phuket-thailand?cid=1844104
In Phuket, you can find some nice diving from shore in these spots (from north to south): Nai Yang beach, Banana beach, Paradise beach, Kata beach between the mainland and the island, the south end of Kata Noi beach, Nui beach, Ao Sane, Ya Nui beach, and the shore-facing side of the island off of Ya Nui beach. While these aren't world-class dive locations, you'll have a good chance of seeing some lovely, colorful coral structures, schools of iridescent fish, starfish, sea cucumbers, barracuda, clown fish, and sometimes turtles, bamboo sharks, and juvenile reef sharks. 
For a guided experience, there are dozens of dive companies that will happily take you out to the popular spots at nearby islands. You can also simply go to Rawai beach which is lined with longtail boat owners looking to fill a boat for half or full-day snorkeling trips. The destination is typically any combination of these spots: Koh Racha Noi/Koh Racha Yai, Bamboo Island, Coral Island, Koh Bon, Koh Phi Phi, Shark Point, Koh Dok Mai, Anemone Reef, and the King Cruiser wreck. 
Travel times from shore vary from just a short jaunt out to Koh Bon or Coral Island, to an hour or more to Racha or Shark Point. The first spots listed are geared more towards snorkeling while the rest are in deeper waters and require scuba gear. If scuba diving intrigues you, there is no shortage of schools in Phuket that offer multi-day certification packages. It's not a bad idea to eventually get certified for scuba diving as the Gulf of Thailand and spots like Koh Surin and the Similan Islands boast truly world class diving.