Those who travel or live abroad do so for a variety of reasons. For many, one of those reasons is to be immersed in and learn about a culture different from their own. This is evidenced by the massive amount of people from all over the world who flock to the countless temples around Thailand. Many find the ornate architecture and decor, and religious practices carried within fascinating.
Another glimpse into these practices is possible during the celebration of special occasions, and one of the most beautiful and picturesque is Loy Krathong. This important festival is celebrated on the full moon of the twelfth month of the Thai lunar calendar, which is typically during the month of November. In 2022, it falls on November 8. While the exact origins are lost to history, the festival has been celebrated for at least several hundred years.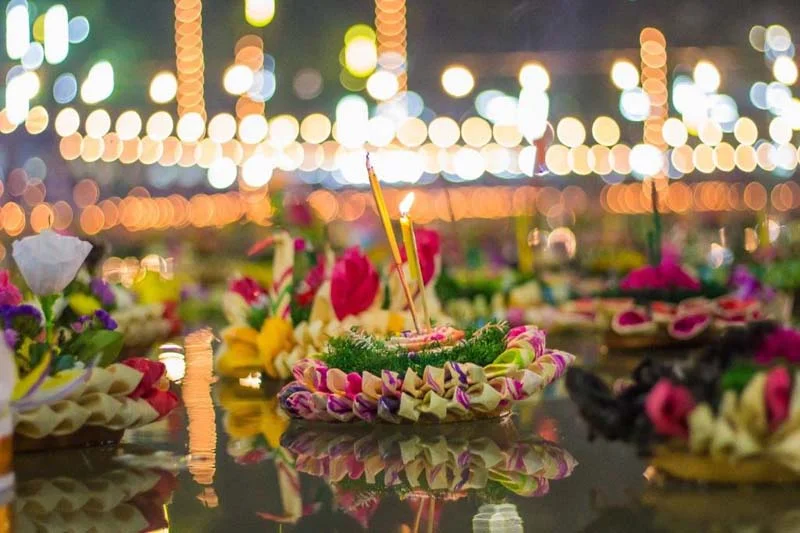 Celebrate Loy Krathong Cr: www.bangkokairblog.com
During this holiday, participants build (or buy) small "rafts" made from woven leaves and adorned with flowers, candles, incense, and sometimes small dishes of food or desserts. These are then floated out onto bodies of water as offerings to the Goddess of Water. In certain areas, sky lanterns are also released, although authorities are attempting to eradicate these due to fire hazards and danger to aircraft. The festival is celebrated all around Thailand and also in Sri Lanka, Cambodia, Myanmar, and China.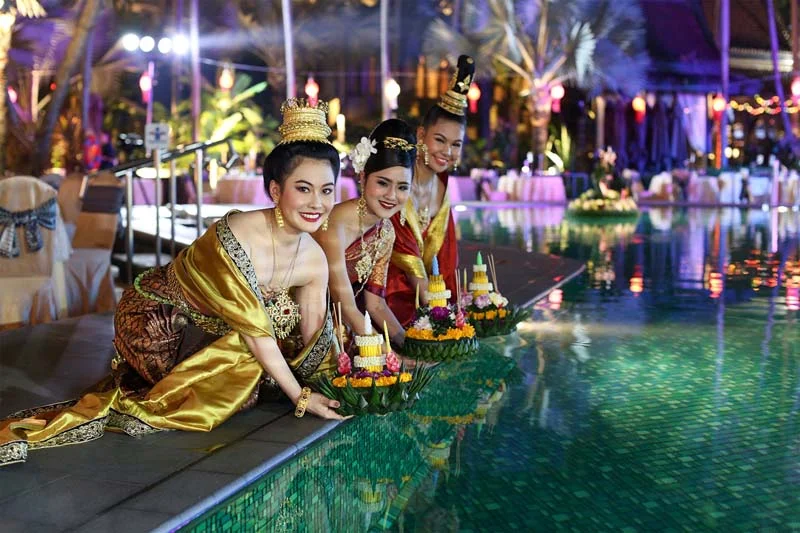 The Noppamas Queen Contest Cr: www.thaipr.net
Some areas hold larger organized celebrations with vendors, live music, beauty contests, and contests for the most beautiful krathong. Companies, corporations, and government offices often sponsor the construction of huge, ornate krathongs which can be found on display.
As you may have guessed by now, waterways are where you can find people taking part in Loy Krathong activities. While waves, current, and wind make it difficult to float the krathongs on the west coast of Phuket, lakes and canals are where most congregate as well as east coast beaches such as Saphan Hin in Phuket Town.
In the south, Nai Harn lake is a very popular spot with thousands flocking there for music, food, and festivities. Nearby Rawai Pier is also busy. With tourist numbers on the rise this year, expect large gatherings at popular spots like the lake in Karon, Laguna in Cherng Talay, and Patong Beach. Suan Luang park in Phuket Town, Bang Wad dam in Kathu, and just about any other neighborhood body of water will have people floating krathongs. Many resorts host celebrations as well whether they are beachfront or simply in their swimming pool. Some even have workshops where you can learn to make your own krathong.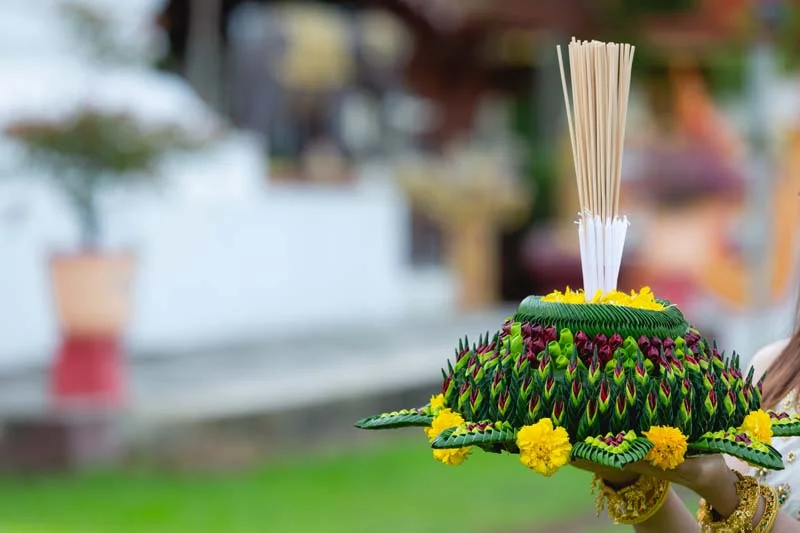 Krathong Cr: jcomp
The majority of participants typically show up and buy a krathong from a local vendor. If you are one of these people, please be aware of the materials used to create the krathong. While nearly all krathong are made with banana tree stems, banana leaves, pandan leaves, and other organic materials, a few people will use styrofoam for the base of the krathong. Obviously, this is a really bad idea and it's important for everyone to avoid supporting this.