Let's face it, without its selection of extraordinary beaches from scenic to cozy to sprawling; there would likely be quite a few less of us here in Phuket. There must be some kind of deeply ingrained instinctual reason why we are so attracted to these specific geographical features. It's simply where sand meets sea, but somehow evokes an insatiable allure, love, and high regard. 
Even as Phuket as a whole is no best-kept-secret, only a handful of beaches receive the lion's share of traffic. Sure, the old standbys like Kata, Karon, Kamala, and Bang Tao are well-established and lovely spots in their own right, but there are so many more hidden (and not so hidden) gems that deserve a visit. 
Ya Nui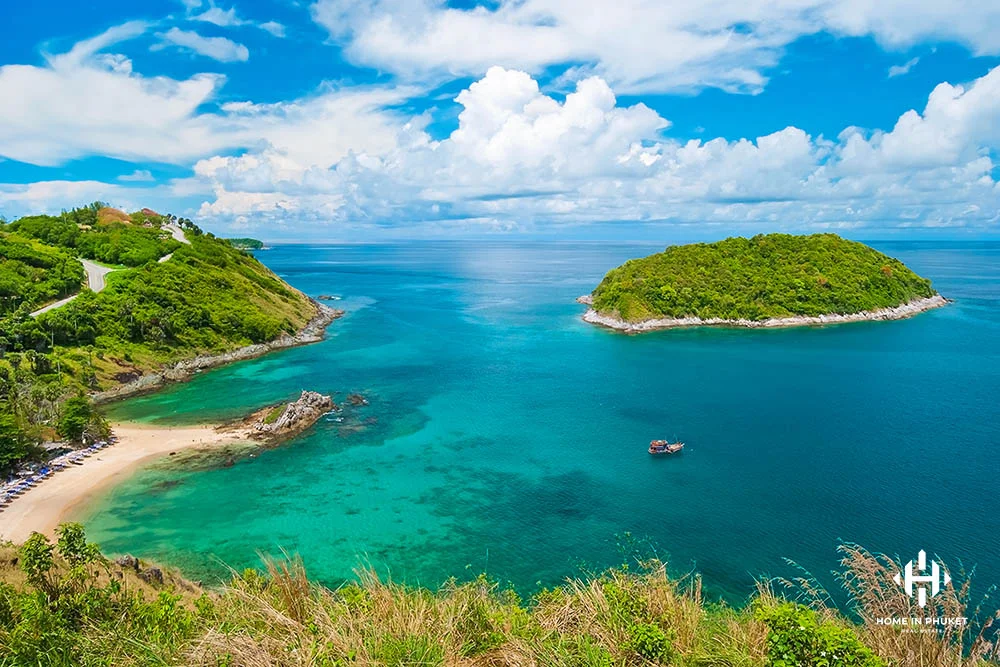 Yanui Beach is a quiet little cove located between Nai Harn Beach and Promthep Cape. | Credit: Sittitap on Shutterstock
Just around the corner from its big brother Nai Harn, this charming 500-meter-long beach rarely gets very crowded. 
Even though it's slightly out of the way, you can still find the small necessities here like cold drinks, a restaurant, kayak rentals, etc. Two small bays are split by a rock promontory which you can scamper up for killer photos. About 300 meters off its shore is a small island with a protected bay offering great snorkeling with spectacular coral formations and plenty of fish.
Hua Beach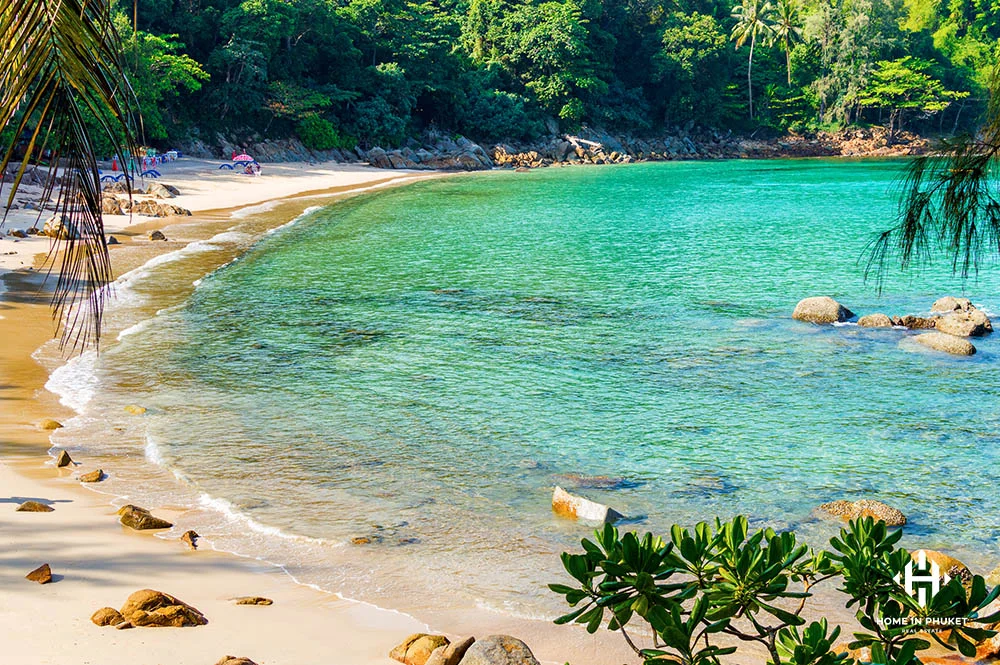 Small calm Hua beach on Phuket island, Thailand | Credit: Mikhail Gnatkovskiy on Shutterstock
Lying around the corner from the southern end of Kamala Beach is another little slice of tropical paradise. 
A short walk gets you to this 200-meter strip of solace. You will sometimes find elephants being bathed in the sea here. Be careful of rocks in the water, it's a good idea to bring a mask and snorkel, and best to visit at high tide. 
Banana Beach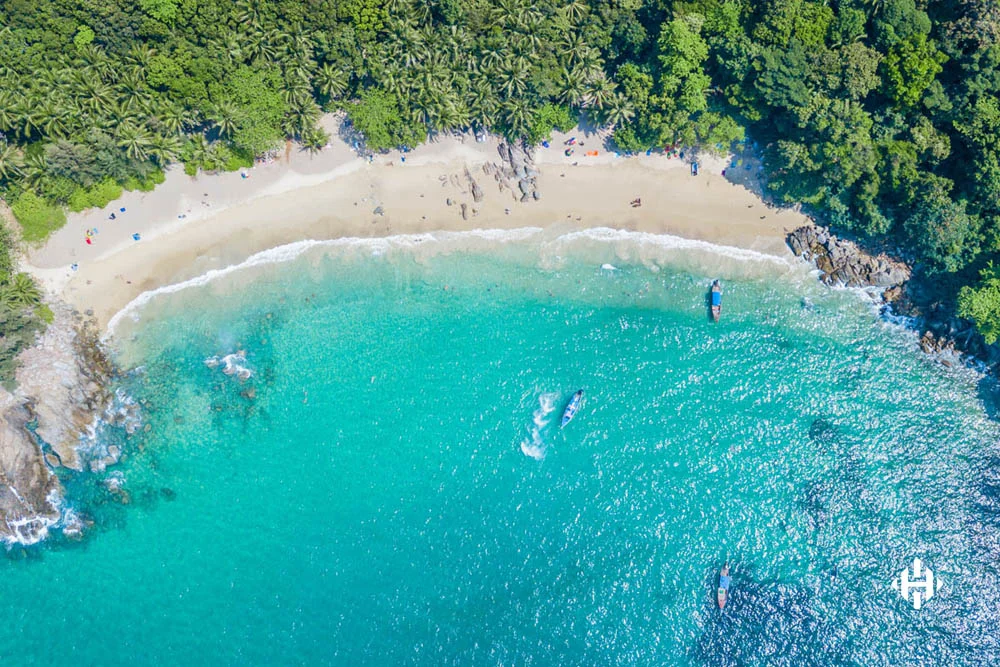 Aerial view of sandy beach with tourists swimming in beautiful clear sea water. | Credit: Avigator Fortuner on Shutterstock
The slightly more remote location of Banana Beach makes it even quieter on any given day. It can be found between Layan Beach to the south and Nai Thon Beach to the north. There's limited parking along the road and a steep-ish short hike down to the beach. 
You'll find ample shade for relaxing in and plenty of trees to string up a hammock if that's your thing, which it should be. Hermit crabs abound and rocky headlands flank the beach for views. The currents can get a bit dangerous if the sea is unsettled so beware. 
Sai Khoo
This one is a bit more off the beaten track for the slightly more adventurous. To reach these secluded coves one must go to the south end of Nai Yang Beach and hike. You can park at the boat ramp and walk around the headland, or drive up the hill behind the abandoned resort where there is a small parking lot and an obvious trail. 
Hiking along the trail brings you to several beaches which are best to visit at high tide if you'd like to swim. The hike is lovely and takes you through bamboo groves and over a few headlands. The final beach is reached after about 2.5km. Here you'll find nice rock formations, some reef for snorkeling, and rarely a soul. 
Mai Khao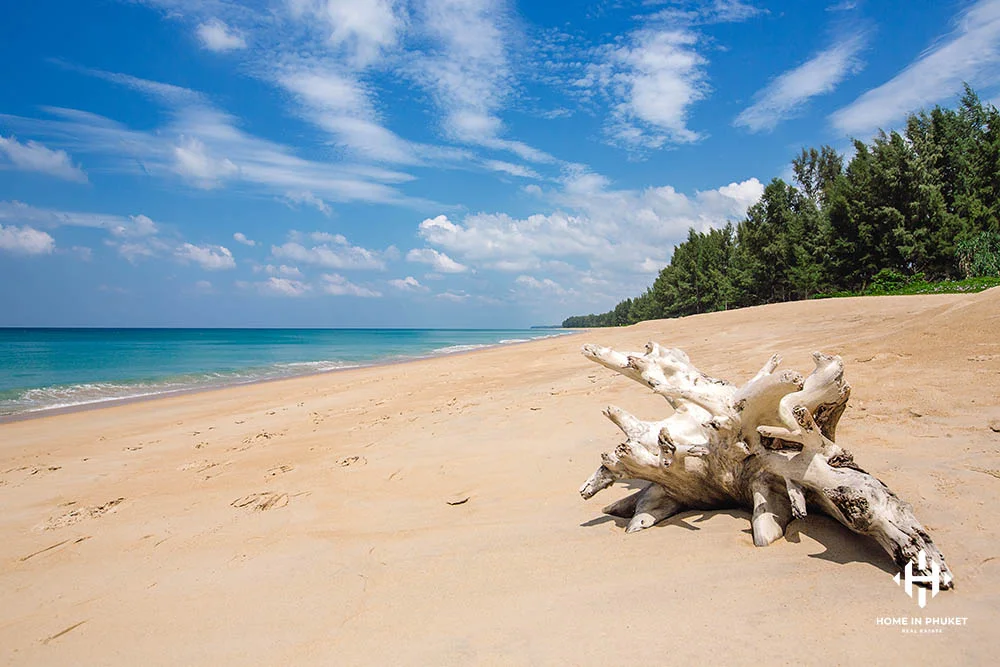 View of beautiful sandy beach with remains of an old bleached wood on the sunny day, Mai Khao Beach, Phuket, Thailand. | Credit: Wiratho on Shutterstock
Although this beach is no secret, large swathes will be completely deserted at any given time. If you want to walk this entire beach you better be prepared as it is 10.5km long. The sheer size of this unbroken strip of sand is a sight to behold in and of itself. 
Much of the beach is lined by pines and palms swaying quietly in the breeze. Of course there are many different sections of this beach to enjoy, but the northern-most 2.5km is especially dreamy. Again, be aware of currents if there are waves or there's lots of movement in the sea, its unlikely there'll be anyone around to help you if you get into trouble.