The uninitiated may simply think that you must be able to withstand searing, hair singeing spice to eat like the Thais. And they might be right to an extent, but there's far more to the art and science of Thai cuisine than that. There are traditions and a certain way to do things that are part of the cultural fabric, but just like anything else, transformation and evolution are inevitable and what might have been common for grandma in the good old days might not apply anymore.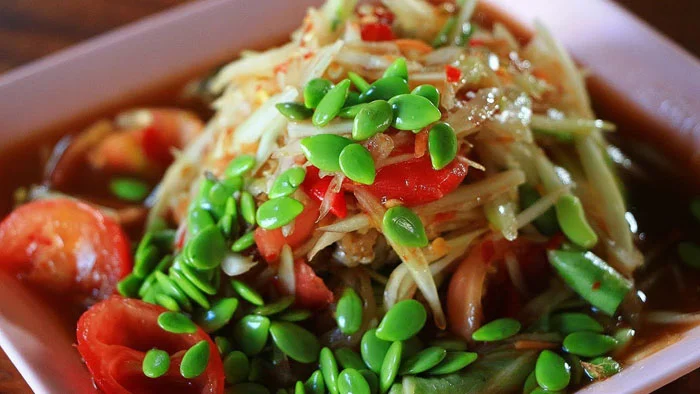 Som tum | Credit: guru.sanook.com
Sorry to spoil it for you, but if you go out looking for Thai breakfast it's not going to be eggs benedict or an English breakfast. Some examples of what you'll find Thais eating for breakfast include a rice porridge or congee (khao tom or jok) with garlic, ginger, cilantro, green onion, and egg with fish, chicken, or pork as well as street food favorites like sticky buns (sarabao), dim sum, fried chicken with sticky rice, barbecued pork skewers (moo ping), and a plethora of sweet and savory snacks steamed in banana leaves. Now is a good time to warn coffee drinkers: if you order a coffee from a street stall, chances are good that it is instant coffee and it will be served extremely sweet!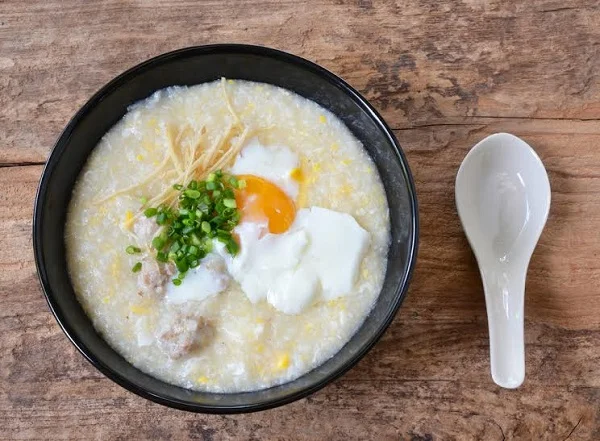 Khao tom | Credit: travel.kapook.com
When it comes to lunch you'll find the standard dishes you'd expect and similar to what's served at dinner. The one thing you'll notice is much of the time each person orders a dish which is not shared. Most restaurants serve certain dishes lad khao which is the dish and rice served on one plate, or gap khao where the portion is bigger and rice is served separately.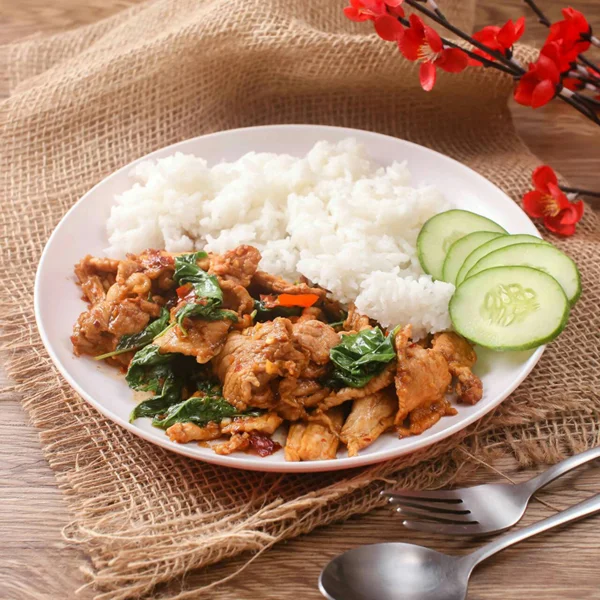 Dishes lad khao | Credit: kraoprajumtamsang
You'll also find many places serving different noodle soups (kwaytiow) with duck, chicken, beef, pork, or shrimp. They typically have several different noodles to choose from like egg noodles, different sizes of rice noodles, and even some funky curled up rice noodles called guay jub. A plate of fresh sprouts, basil, long leaf cilantro, and more is typically served on the side. Noodle soups are usually the only dish eaten with chopsticks in Thailand.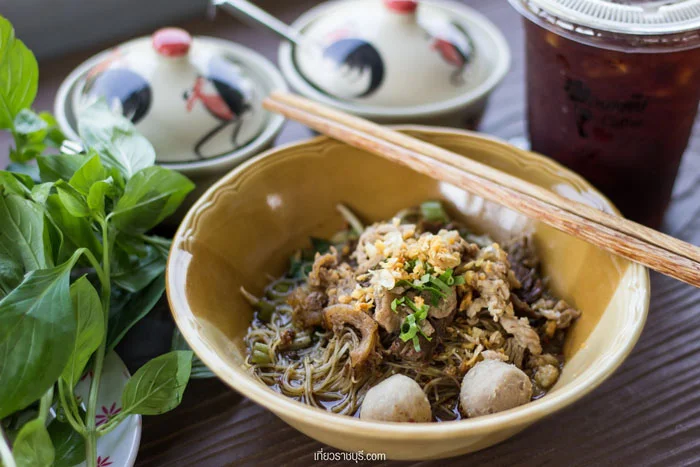 Kwaytiow | Credit: www.เที่ยวราชบุรี.com
Finally it's dinner time. The majority of the breakfast foods you saw in the morning are long gone. Restaurants are filling up, especially the good ones, with groups of people. Typically in this scenario many dishes are ordered and shared amongst the table. Balance is key, you can't just go ordering only curries. The approach is to strike a balance in everything – veggies and meats, colors, textures and flavors. Next time you see a big table at a restaurant look at the dishes they've ordered, you'll probably see a curry, a Thai salad, something deep fried, maybe stir fried veggies, and a soup.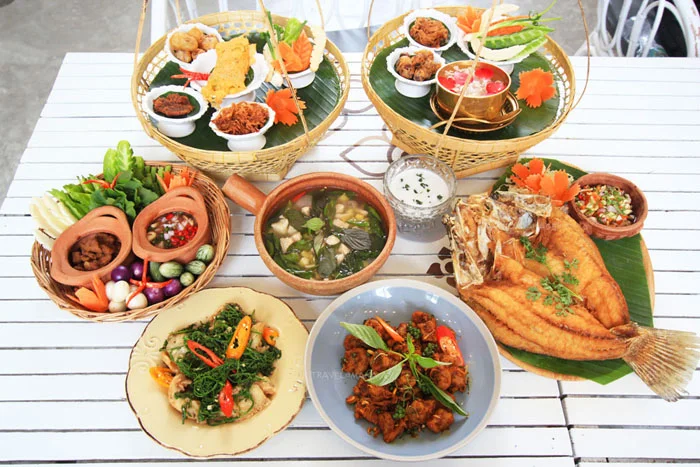 Thai food | Credit: https://mgronline.com/
As you might expect, you'll find a rollercoaster of flavors represented: sweet, sour, bitter, salty, umami, spicy, etc. Some restaurants also serve a plate of raw veggies which may consist of sliced cucumber, basil, long leaf cilantro, young cashew leaves, and more. The freshness and unadulterated veggies help to balance out the cooked dishes and cool the tongue.