Phuket Old Town has a trendy shabby-chic vibe and is a hang-out for some extraordinarily talented artists.  The colourful old town centre is painted in zingy hues of pinks, blues, greens and yellows and possesses a distinct Sino-Portuguese style.  The crisscrossing streets are bursting with vibrant 18th-century shop-houses; traditionally a place for families to both live and run their businesses.  Now, these shop-houses play host to a myriad of galleries, book and clothes shops, noodle and coffee cafes.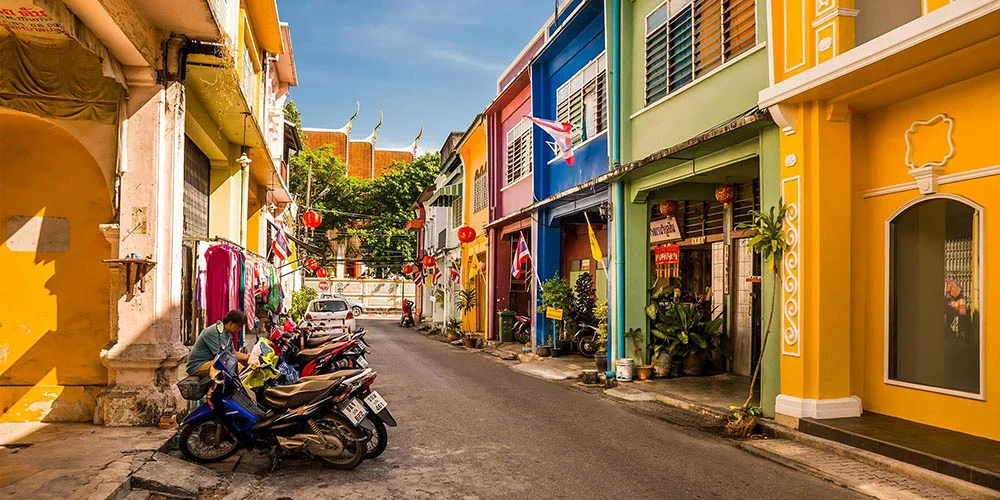 SINO-PORTUGUESE PHUKET | Credit: Travelogues on remotelands.com
Locals and tourists alike can be found wandering the streets admiring some of Thailand's most exceptional street artists' mural work that cleverly adorns buildings in the Old Town.  Innovative designs have rejuvenated somewhat dark alleyways, street corners and restaurant fascias.  Artists have translated their heritage into modern art that pays homage to their deep-rooted beliefs, and traditions with welcome dashes of colour.
In 2016 Phuket was awarded the prestigious award 'City of Gastronomy' by UNESCO. To celebrate this award, Phuket Town created the FAT (Food Art Town) Phuket Project. This project allows artists to discover and experiment with the relationships between local food and its ecological landscape, culture, and history.  The aim is to preserve local food and celebrate the creative city of gastronomy. Much of the art represents the culture and traditions of Phuket. 
Thailand mourned King Bhumibol's death, and in October 2016, someone painted a memorial mural painted on a wall along Dibuk Road just to the west of Wat Mongkhon Nimit.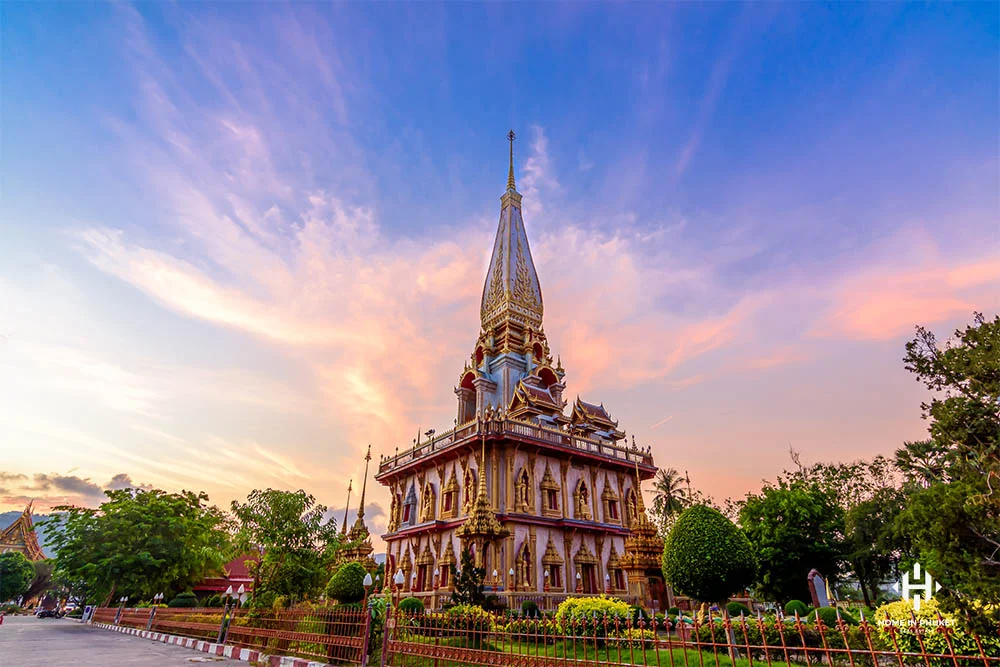 Wat Mongkhon Nimit or Wat Chalong | Credit:  ShutterStock By Chanasorn Charuthas
Beautifully crafted pictures of local life depict local families and food vendors. Dotted sporadically through the town are fun cartoons perfect for Instagram pictures and an Aztec-style bird that covers an entire building. A giant spray-painted lion lives on an unoccupied bank wall and watches over a narrow lane. There is even an impressive wakeboarding bird with plumes of colour that stream behind it.
Specific hashtags across social media platforms have allowed for colourful collections of photographs that show-off this eclectic collection of art. Tourists from around the world take pictures of these star attractions that are full of colour and humour.  Giant turtles, dancing Chinese troupes, oversized pineapples and native hornbills have become the iconic symbols of this creative village space.
Tucked away in the magical streets are numerous galleries that boast extraordinary pieces of art that are created by talented Thai artists.  In particular, one artist is Mr Zen, who is the man behind modern art gallery Wua.  Much of Zen's inspiration often comes from his young daughter's etchings.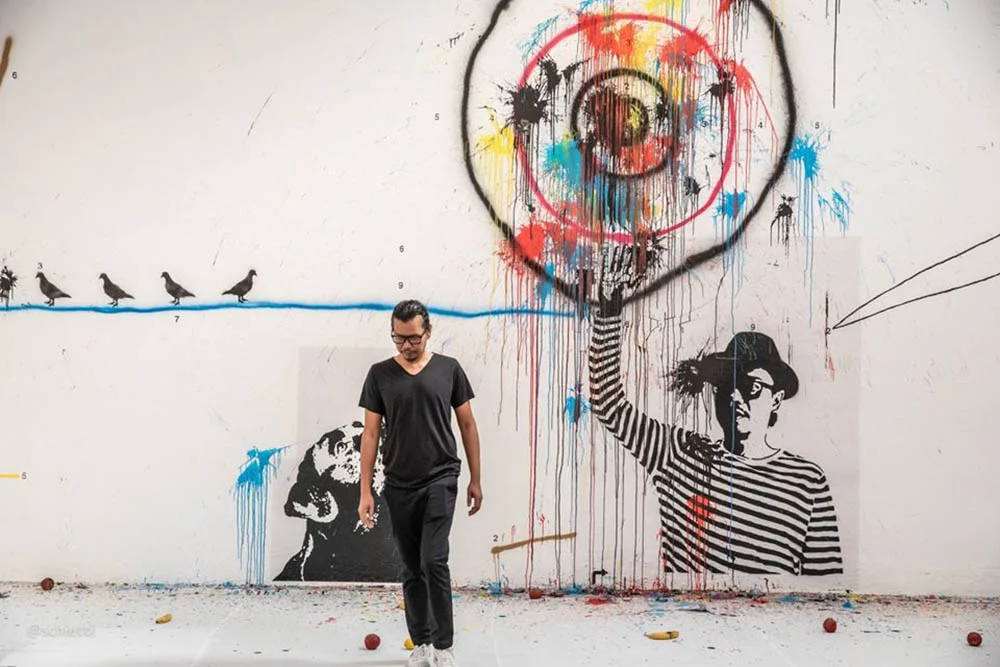 Wua Art Gallery&Studio|by Mr.Zen|Fine Art in Phuket | Credit: wua-artgallery.com
This vibrant Phuket Old Town neighbourhood is making a name for itself. It encourages visitors to wander and explore, to discover and shop.  Each Sunday evening is a bustling street market where the food is to die for, live music reverberates through the town, and artists paint.  Grab comfortable shoes, a camera, get lost and explore this little gem.  The art adventure can take a few hours, pop into the ancient On On Hotel or one of the noodle restaurants for a rest and some delicious local food.