Anyone with even a mild interest in Thai food discovers pretty quickly that within this category can be found a constellation of various subcategories. This is undoubtedly what attracts so many foodies to Thai cuisine; the sheer variety of ingredients, dishes, and flavors. Even those who have resided here for years still manage to find dishes they've never even heard of. One thing is for sure, throughout the country's cultural timeline, various regions throughout Thailand have created their own unique flavors that we now enjoy. 
Isarn (northeast Thailand)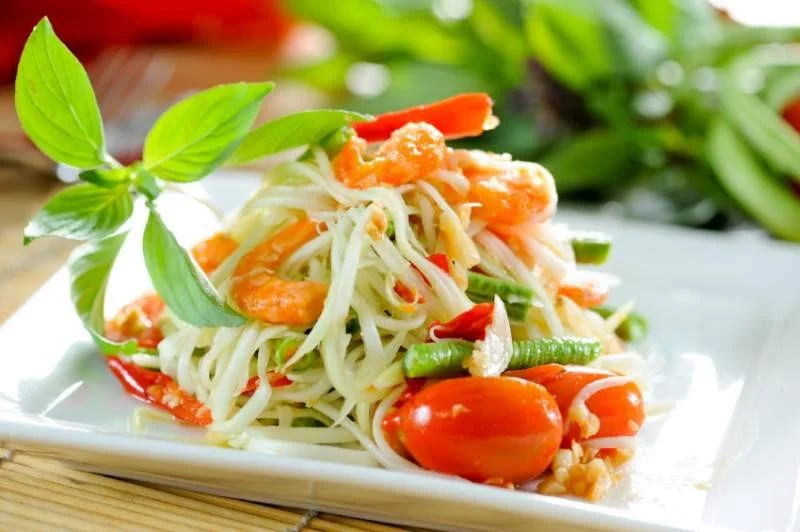 Isarn food | Credit: SICK on Facebook Page
If there's one dish that symbolizes Isarn food, it's som tum, aka papaya salad. While som tum with it's chopped green papaya, roasted peanuts, chopped long beans, tomato, fish sauce, sugar, and lime is the most famous, there are a few others that represent the region. Larb, sometimes called spicy minced salad in English, along with nam tok both exemplify Isarn flavor perfectly. A couple key ingredients include toasted and crushed sticky rice and mint.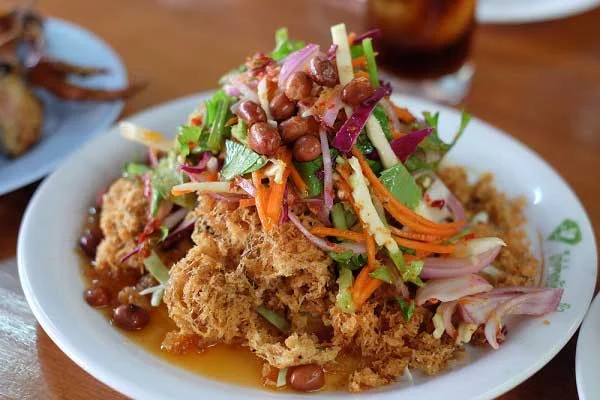 Yam pla dook foo | Credit: cooking.kapook.com
One last dish worth mentioning is yam pla dook foo, or fluffy catfish salad. Shredded catfish is breaded and deep fried into a golden brown fluffy pillow of goodness. It's accompanied by a tart and tangy sour mango salad with chilies, shallots, fish sauce, sugar, and more, and is served on top. A great place to try quality Isarn food is Som Tum Dawkoon a few doors south of Bangkok Dibuk Hospital on Chao Fa West. 
Northern
Northern-style Thai cuisine originates in the northwestern region of the country with Chiang Mai at the center. While some dishes from this region are represented at restaurants in Phuket, there are many more that you will simply have to go there to experience.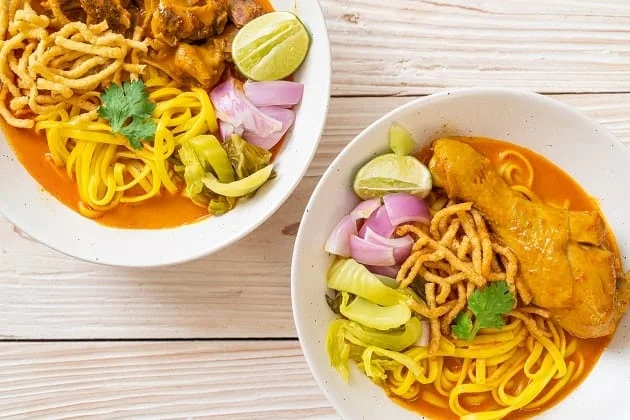 Khao soi | Credit: shopback.co.th
We'll start with the low-hanging fruit– khao soi. It's a soupy noodle curry made with coconut milk and a dazzling array of spices including turmeric, ginger, garlic, cilantro, chilies, lemongrass, shallots, and too many more ingredients to list here. It's not a quick street food classic, it's a delicately balanced work of culinary art. Once you have a truly great khao soi, you've been ruined and all others taste bland and unrefined.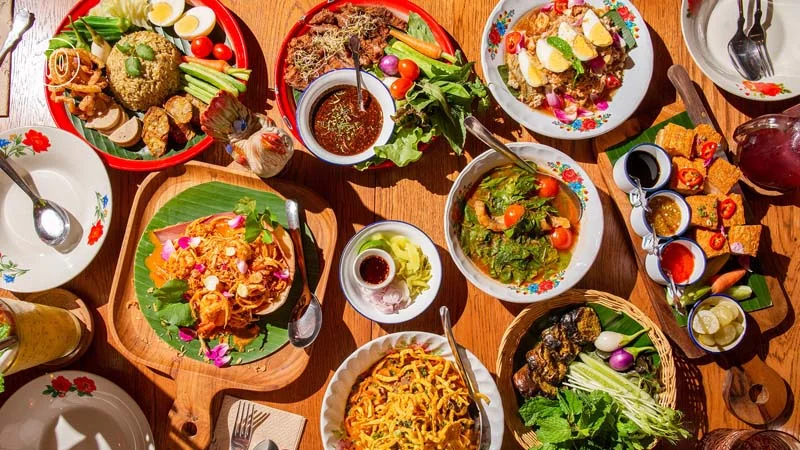 Northern-style Thai cuisine | Credit: wongnai.com
A few other northern dishes to try include a stewed pork red curry called gaeng hung ley, a fire roasted green pepper dip called nahm prik noom, and a lemongrass and kaffir lime infused sausage called sai ouah. Get your northern food groove on at Krua La Poon near the Tesco in Samkhong, Chiang Mai Northern Thai Cuisine about a kilometer south of Blue Tree, or the Noodle House on Pasak Road in Cherng Talay.
Southern
Here in the south is where Thai food gets its reputation for fiery cuisine. While we could further split up southern food into micro-regions, we'll take a broader look. Intense flavors are the name of the game down here. Dishes like the unapologetically sour gaeng som (orange curry) made with copious amounts of fresh turmeric and usually with white snapper, jackfish, shrimp, or egg with climbing wattle. Krueng gaeng  is a crazy-flavorful reddish curry made with turmeric, black pepper, chillies (surprise!), lemongrass, galangal, shrimp paste (common in southern dishes), and more.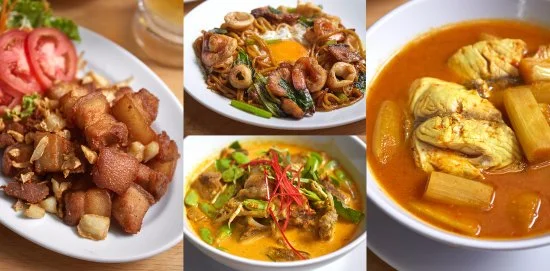 Southern Thai food | Credit: tripadvisor.com
While you can naturally find southern Thai food all over the place in Phuket, a couple notable purveyors are Ajarn Restaurant one kilometer north of Chalong Circle on Chao Fa West, and Parknam Seafood across from Wat Phra Nang Sang in Thalang. 
Central
Although it's not always crystal clear where certain dishes originate, there are a few that can be categorized as central Thai, i.e. Bangkok and the surrounding region.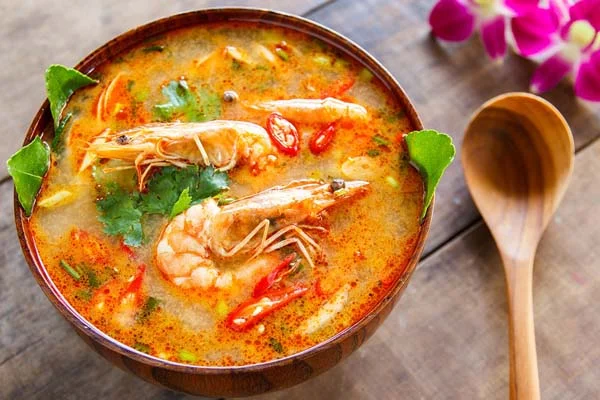 Tom yum goong  | Credit: hotels.com
These are some of the most well-known and popular foods like phad thai, gaeng kiawan (green curry), and tom yum goong. Depending on your palette, one issue expats may experience in Phuket is restaurants holding back on the spiciness and flavor in worry that our delicate taste buds can't handle it.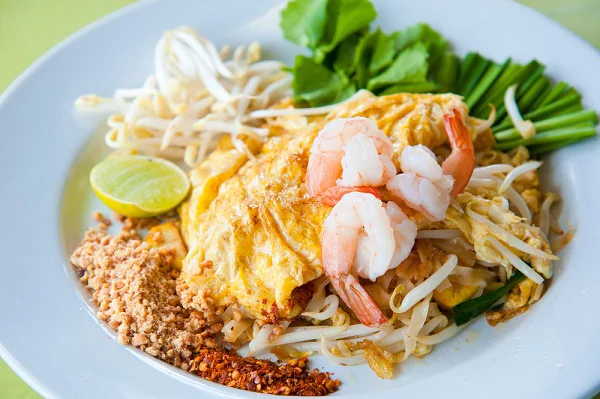 Phad Thai  | Credit: cooking.kapook.com
Try the above average tom yum goong at Hoi Pai Daeng near the Country Club driving range in Kathu, phad thai from the aptly named Phad Thai Shop on Patak Road in Karon, and gaeng kiawan at Tu Kab Khao on Phang Nga Road in Phuket Town (with the giant lobster on the side of the building).