What is a workcation, or should that be a workoliday or even a woliday? A workcation is a vacation that allows you to work remotely. Not only can you explore a different destination and benefit from immersive leisure time, but you can be productive too.
Workcations are becoming more and more popular. Technology, laptops, collaboration tools, project management software, messaging and teleconferencing platforms and time tracking tools are all available. Many global firms have introduced these new work methods to focus on the wellbeing and long-term productivity of their remote teams.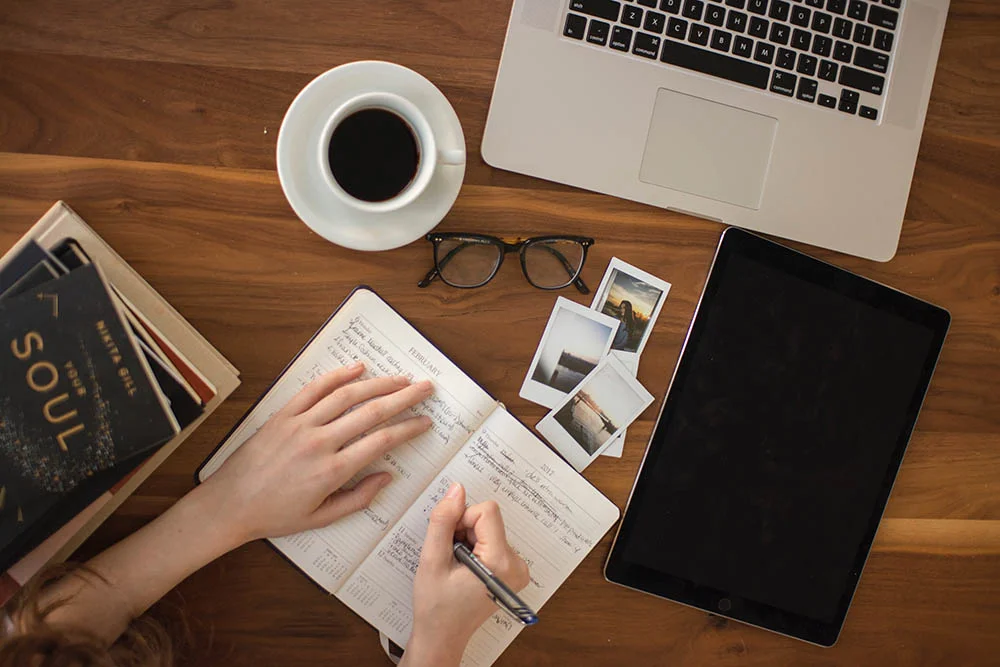 Work and travel | Credit: Thought Catalog on Unsplash
The workcation trend has been gaining momentum as people build on their 'working from home' experiences and realise that technology allows them to live anywhere. Whether you work for your home-country employer or have reverted to freelance work from online portals like Upwork or Fiverr, extended workcations are an exciting way to travel.
Thailand ranks highly as a desired long-stay destination. More than half of the workforce across the world have the opportunity of working from home. Why not join the work-from-home revolution and go on a workcation. Phuket is trending as one of the most popular destinations in Thailand for these work holidays. It has an increase in long-term stays across the island due to its diverse and cost-effective offerings. 
Workcations are ideal for employees who work for flexible companies, self-employed or freelancers who can work remotely. It's a well-known fact that micromanagement and babysitting management styles don't work. Managers can see that it is the results that matter. 
Your daily routine becomes more flexible; instead of watching a new binge-worthy series on Netflix, a walk along a palm-lined beach could be more appealing and definitely more inspiring. Your creativity and view of the world will change. Not only will you be earning money, but you can immerse yourself into a different culture, part of the country or way of life.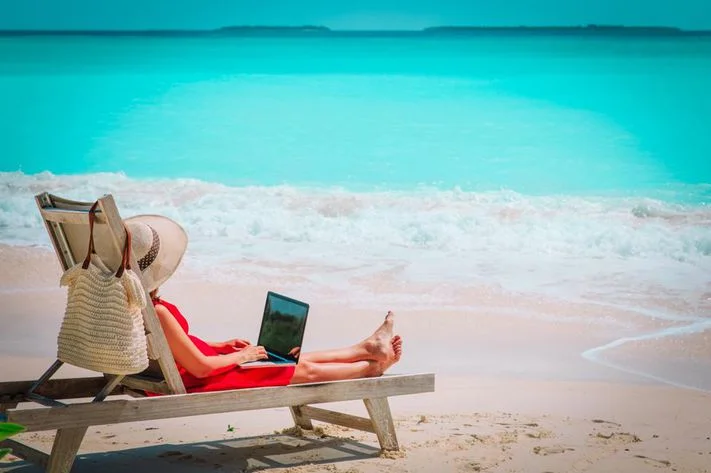 Work From Home Or Anywhere | Credit: forbes.com
Interestingly, working from home or workcations have encouraged a dramatic reduction in traffic, congestion and pollution. Sadly, sustainability is not the driver of remote working, but scientists already see a marked difference in the impact it is having on the environment. You can feel good in yourself that you are reducing your carbon footprint by cancelling out your commuter travel. 
Depending on the length of your workcation may dictate where you choose to go. Remember, the work part of the vacation is very real. Are you planning to spend endless months under the blue skies of Phuket tapping away on your laptop as you dangle your feet into the white sand or azure waters. You'll have plenty of time to explore the islands and the attractions that lie close by over the weekends. Phuket is the perfect hub in the south for you to travel extensively throughout Thailand; there are regular public transportation offerings and cost-effective flights available throughout the year.
If you continue to work for your current company, make sure you plan your days in advance so that your boss knows exactly what to expect. Work out your days and other times that you won't be working. Plan how your office can reach you, and if they can't, decide who will have the power to make a decision in your place.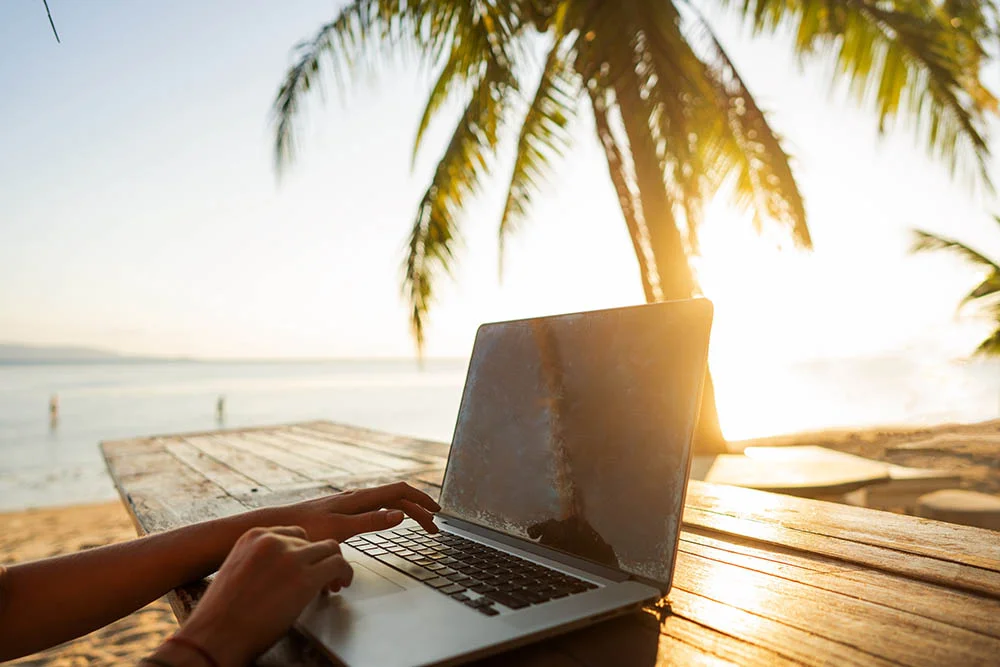 Work and travel | Credit: michelealdrich.medium.com
Be strict with your working hours; you are on vacation too! Do take breaks during the day so that you can explore. Consider getting up at the crack of dawn and working a couple of hours before breakfast so that you can do something fun, try the local cuisine or even fit in a Muay Thai lesson during your lunch break.
Have fun with your work location; there are seemingly endless locations in Phuket to choose from, be it jungle or beach, an elephant reserve or a boat, a gorgeous villa balcony or a rustic cottage hammock. All you need is good and reliable Wi-Fi (or a local sim so you can hotspot to your laptop).
We've all learnt how to rethink work travel, meetings and conferences and acclimatise to virtual meetings. The pandemic has shown us all that we can adapt to change and work efficiently from home, so why not work with palm trees swaying outside your office. Now that's an office with a view.