Every once in a while it's nice to go for a meal without limits. Maybe you simply have a voracious appetite that needs appeasing, or you've courageously completed some herculean task (like making it through the work week) and you just deserve it. Whatever the reason, we are fortunate to live in a place where every color of the culinary rainbow is represented.
The Local Spots
Thailand has it's own version of all-you-can-eat buffets called moo grata. Oftentimes they are big open air affairs. In the center of the table is a hole with a pan where hot coals are placed and a domed grill is placed on top with a ring where water is added around the outside. A dollop of fatty pork is plopped on top for flavor and to help keep ingredients from sticking to the grill. You can choose to put ingredients on the grill or in the water and you end up with tasty barbecued meats on top and a tasty soup on the bottom.
Ingredient-wise, you'll typically find pork, chicken, and sometimes beef in various marinades. Seafood options like shrimp, fish, squid, shellfish, and more are common plus a wide variety of vegetables and herbs. A variety of typical Thai dipping sauces come standard.
It's normal to have a set time to eat, usually 1-1.5 hours and prices will be in the 100-300 baht per person range.
Korean BBQ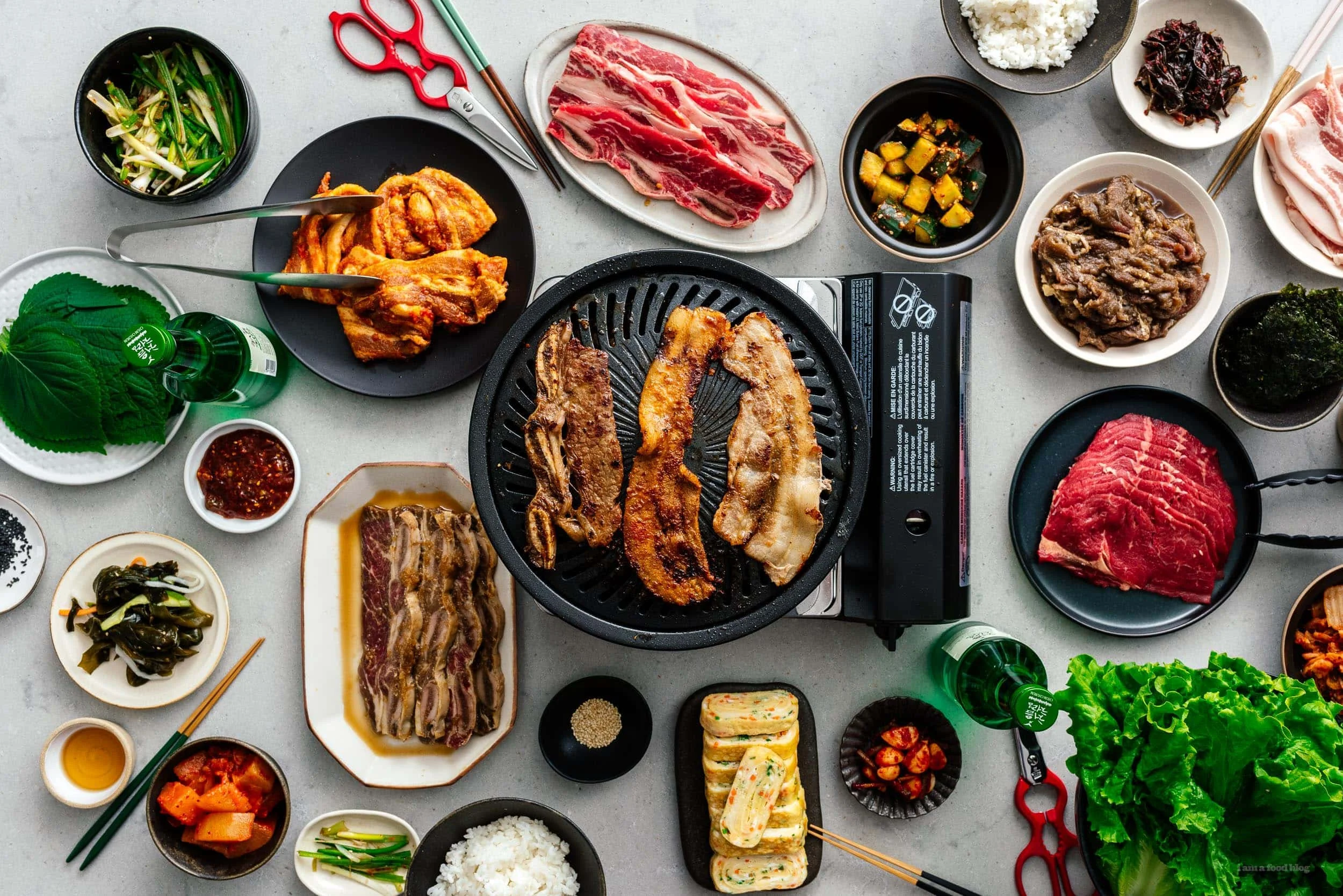 Korean BBQ | Credit: iamafoodblog.com
While there are a few Korean BBQ shops around the island, Mr Gung in Chalong is good, long-running example. This place is busy most evenings and has good quality ingredients. The setup is similar to the aforementioned moo grata, but without the soup and more meat-focused. Of course the dipping sauces exhibit typical Korean flavors found in dishes like bulgogi and bibimbap. You will usually find a variety of side dishes available at these buffets like pajeon (savory type of scallion pancake) and of course the ubiquitous fermented favorite, kimchi.
Japanese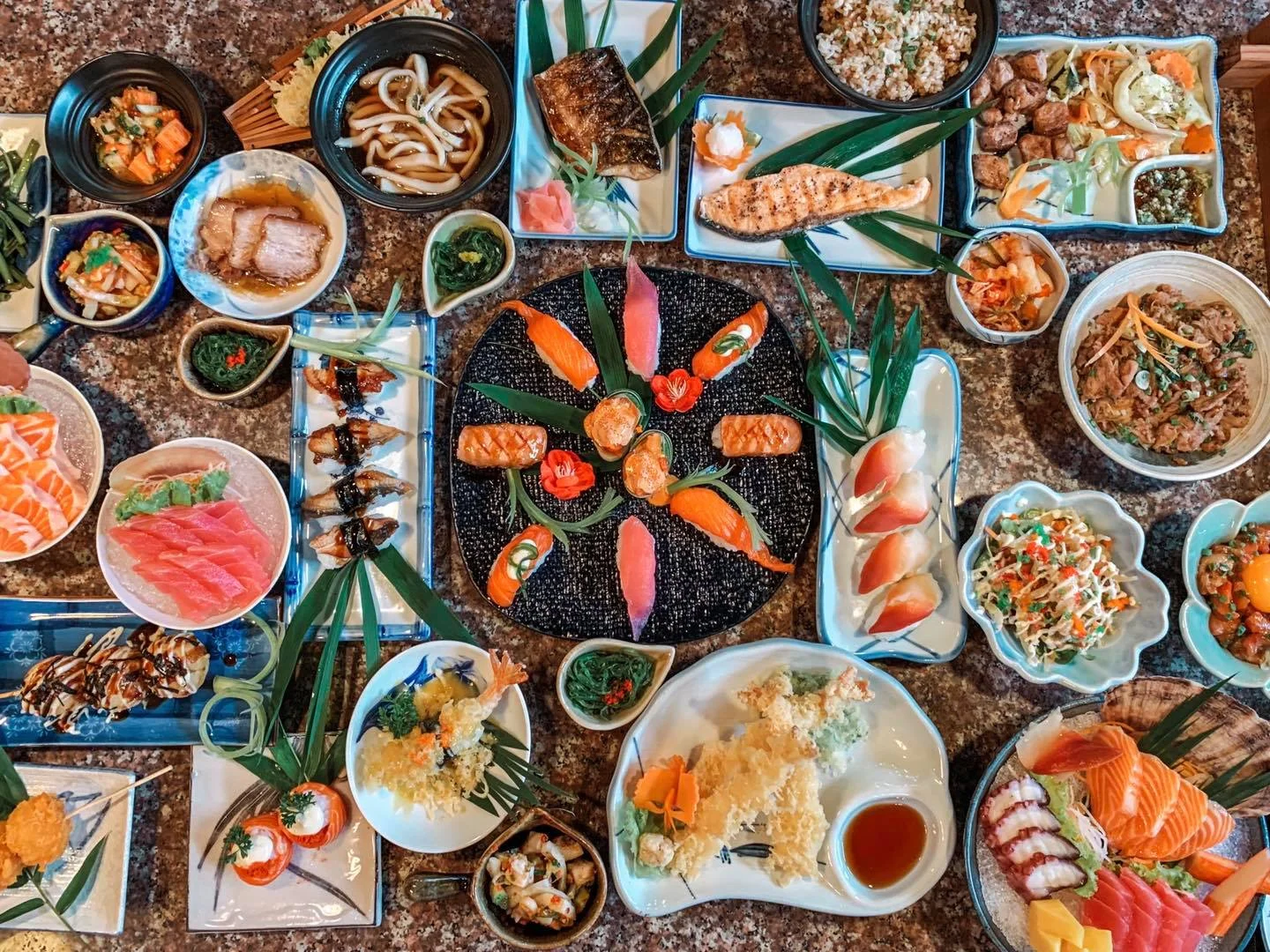 Japanese buffet phuket | Credit: Baikingu Japanese Buffet Garden Restaurant
Again, several Japanese-style buffets can be found around the island including Oishi at Central Festival Floresta, Baikingu in Phuket Town, and Yuzu in Cherng Talay. Naturally, the main focus of pretty much every Japanese buffet is sushi in it's wondrous variety of forms. Some places (like Oishi) prepare the sushi and lay it out in typical buffet form, while others do the made-to-order thing (like Baikingu). As with many things in life, you often get what you pay for and since we're talking about raw fish, splurge a little and look for busy spots who will have quick turnover and fresh ingredients.
Many Other Options
Don't worry, when the time comes and you have that burning yearning to devour thousands of calories of food, you will be spoilt for choice. If you're feeling the soup thing, there are loads of shabu places, especially around Phuket Town. Sample the local spots like Shabu Lion or Shabu De Bear, or there's always the tried and true MK or Shabushi. You can also find Indian buffets like the one at the Avista Grande Hotel Karon, dim sum at the Royal Phuket City Hotel, and a wide selection including steaks at the Diamond Hotel in Cherng Talay. Bon appetit!