Whether you've never been to Thailand before or are a permanent resident, the walking street markets are a must-see. They are colourful, overload your senses and give you a fascinating insight into Thai people's daily lives. 
Phuket has some of the most spectacular night markets; they are busy, sometimes overwhelming, but lots of fun. Visiting these local markets allows you to try some of the unusual foods that are Asian delicacies. 
Phuket Walking Street Market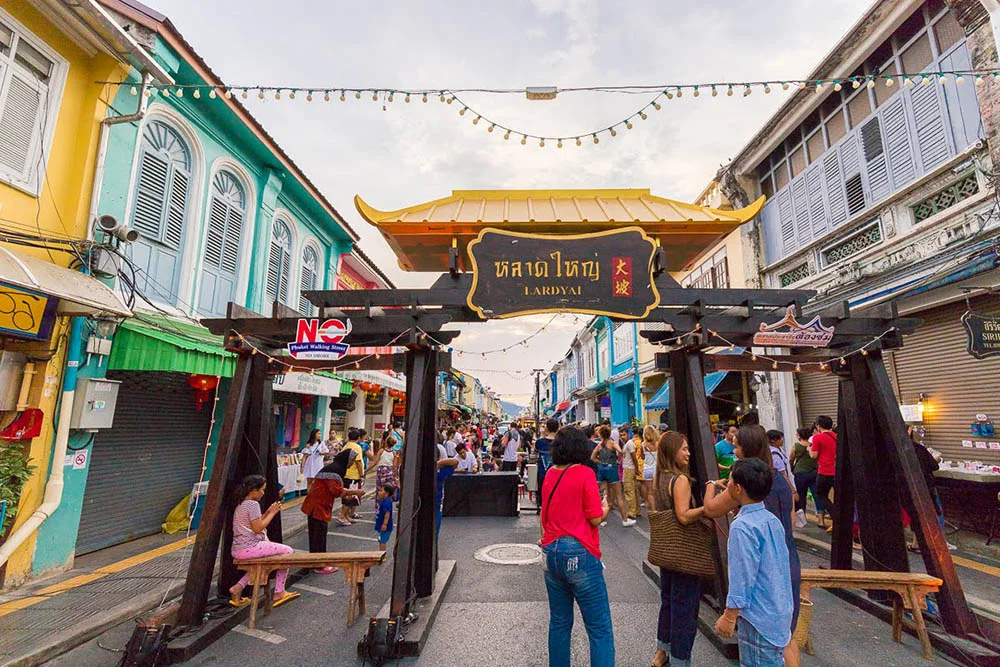 Phuket Walking Street Market is known as Lard Yai by the locals and is by far one of the most popular attractions in Phuket Old Town. The indy market takes place each Sunday evening on historical Thalang Road, which runs straight through some beautifully colourful Sino-Portuguese architecture. 
There is lots of entertainment from local clubs and schools. You might come across a brass band, a dance troupe, school choir or even a pair of karaoke singers. There are also some great high-energy performances from various street artists. Each stall offers tantalising dishes from freshly prepared Pad Thai, to steamed wontons, freshly sliced fruit or crispy chicken. This busy walking market is frequented by local painters, artists and creatives selling their wares. 
If you get to the market early, you'll be able to discover some of Phuket Old Town's graffiti art which frequently appears on Instagram. See if you can find the pineapple or the rabbit in a makeshift pram.
Phuket Weekend Market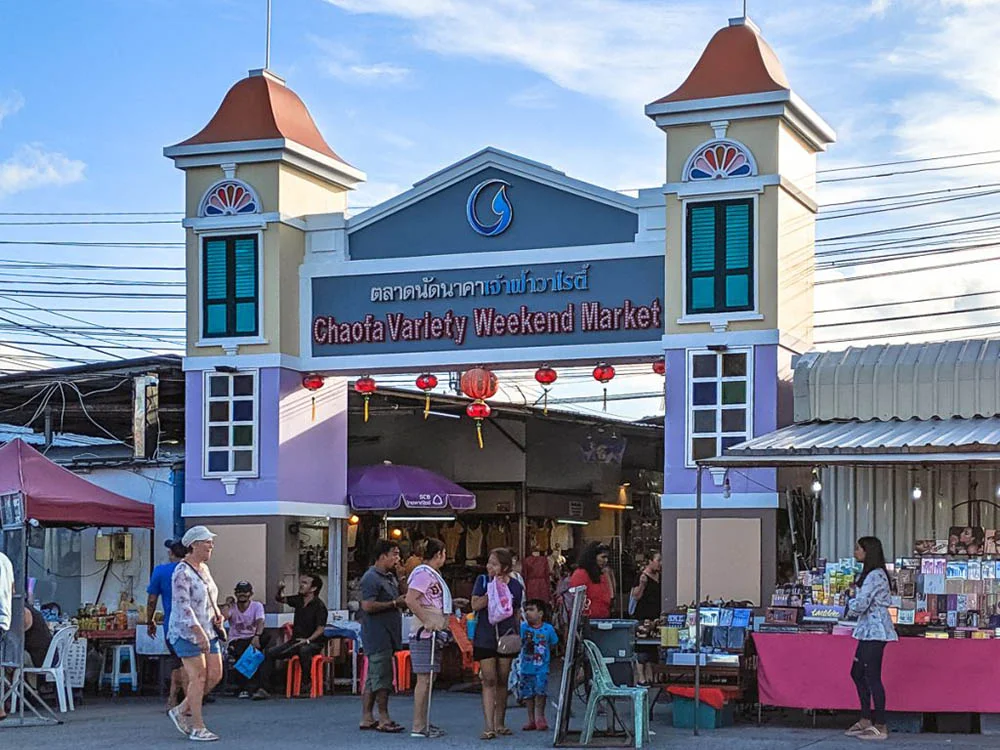 Chaofa Variety Weekend Market | Credit: Wanderfarfaraway.com
This weekend market is known by many names. Phuket Weekend Market, Chaofa Variety Weekend Market, Phuket Chatuchak which references the giant market in Bangkok and Talad Tairod which translates into car boot sale. However, it seems to be recognised by most people as Naka Market.
Naka Market is bursting with energy, fun and fakes. You can wander around this market in wonderment for hours and be completely overwhelmed with its spectacular offerings. You can buy everything you don't need here at particularly good prices, making you feel you have a bargain. 
You'll need to read between the lines here; vendors display famous brands at knockdown prices, giving you an idea of their authenticity. Amongst all of the imitations are some brilliant bona fide local designers. Not all is lost.
The food is everything that you could imagine and more. You can choose from stinky to fermented, boiled, fried, with or without chillies, stuffed, roasted, sliced, steamed, boiled or deep-fried. You'll be bewildered and spoilt for choice.
Boat Avenue Friday Market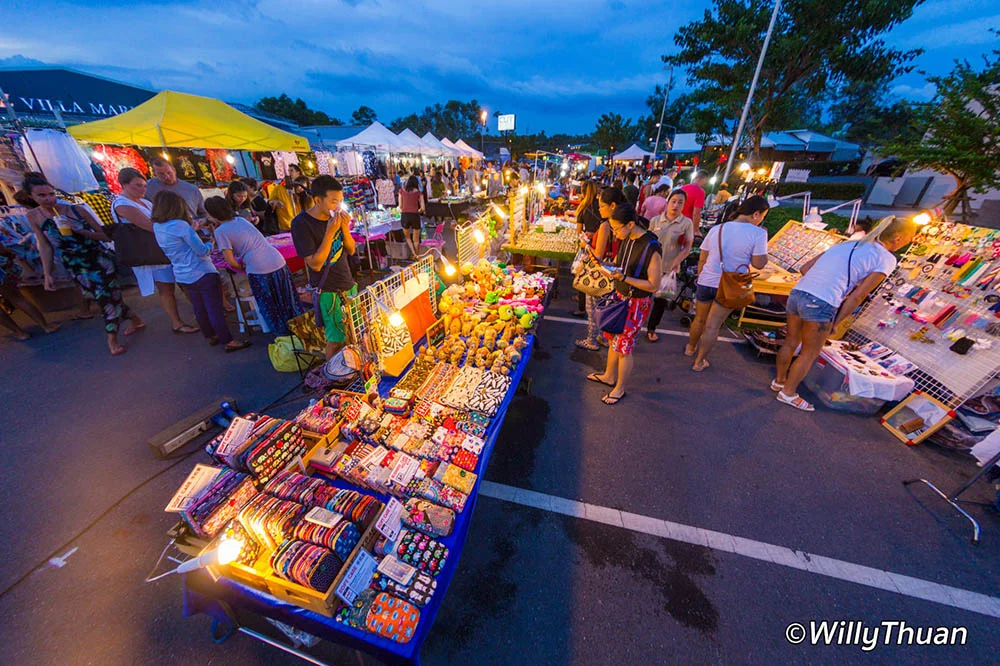 Fun Friday Avenue Market at Boat Avenue - Bangtao Beach | Credit: @WillyThuan on Phuket101
This market is situated around the lake of Boat Avenue. It's cleverly split into various sections selling products from talented artisans, traditional and Muslim Thai food stalls, clothing, lots of jewellery, homemade coconut health products and antiquities such as old watches. Keep your eyes peeled for the 'mushroom' lady, she makes soup from the freshest funghi in front of you, and it's delicious. 
The whole market wraps itself around the container-style shopping centre, which provides boutique clothing outlets, hair and nail salons, restaurants and wine bars. It's a great place to hang out each week. 
Pop into Villa market on your way out; they have a great collection of imported groceries, a cookware section and some well-priced wines.
If you head towards Laguna, there are also lots of art galleries to explore. 
Blue Tree Wansao Market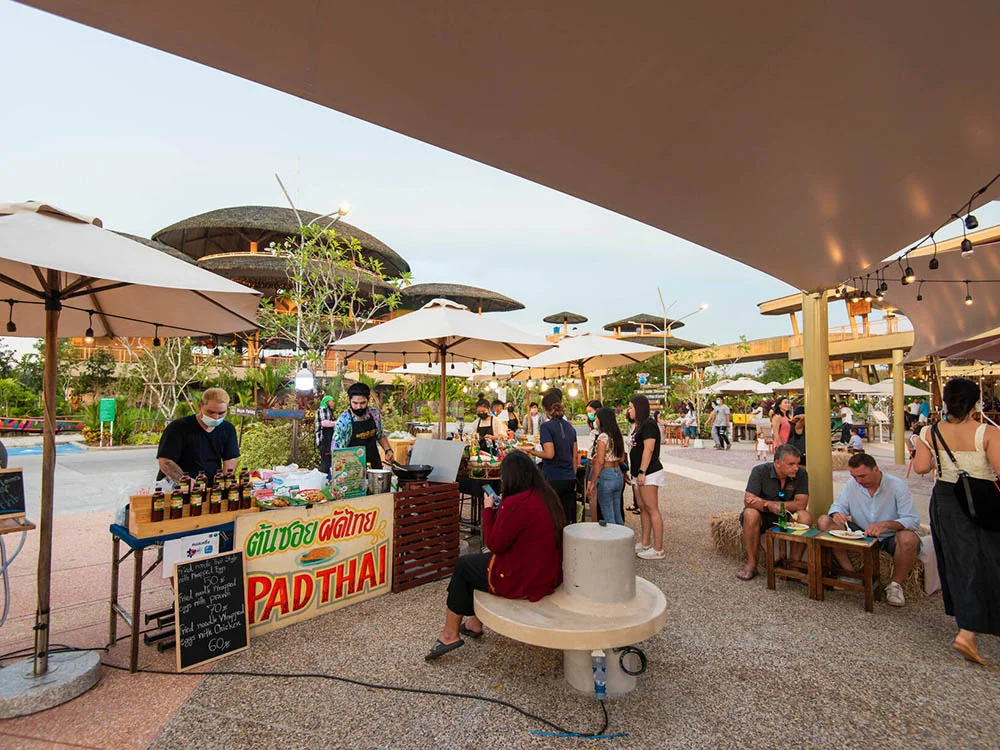 Wansao Market March-April 2021 | Credit: Blue Tree
Situated in the enormous Blue Tree complex in Cherngtalay, Blue Tree Wansao Market affords you a blend of traditional market experiences with contemporary offerings. There are lots of food stalls, handicrafts and herbal cosmetics to buy. The food trucks offer a diverse range of culinary bites and drinks. Every Saturday night at the market, you'll be surrounded by a vibrant 'festival' vibe, live music, street performers and movies under the stars.
Blue Tree offers lots of fun for the family throughout the day, so why not plan to come on a Saturday so that you can end your fun day with the family-style market. 
Chillva Market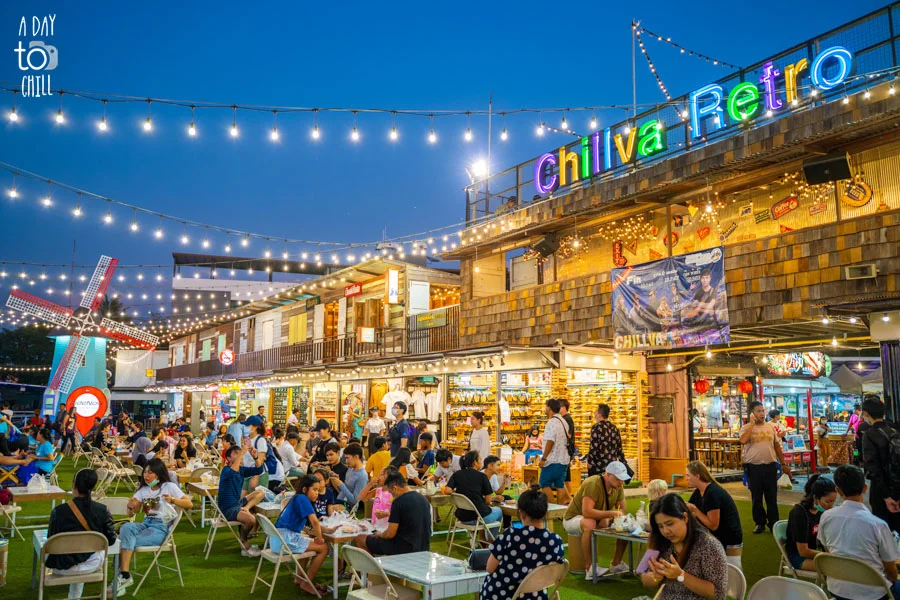 Chillva Market Phuket | Credit: A day to chill
Chillva Market has a fun and young vibe. It attracts the younger Thai's by droves. The food offerings are impressive with lots of seafood, sausages and meatballs, crispy chicken, satays and melt-in-the-mouth ribs. You'll also find the most delicious overly sweet banana pancakes and of course, the well-loved mango sticky rice.  
If you are feeling courageous, why not try some of the fried insects that are on offer. A fat silk pupa, a juicy silkworm, a crispy grasshopper or even a snapping scorpion. Did you know that insects are the perfect balanced diet for humans and are high in vitamins, fat, protein and minerals? They also emit fewer greenhouse gases than other foods.
Conclusion
You can find a market every night of the week if you so desired. There are small versions that pop-up all over the island. If you are looking to embrace the Thai culture, then there is no better place than at a street market. It fires up every sense and introduces you to an authentic Thailand with a pleasant and overwhelming jolt.