For at least six decades, one facet of Thailand's global reputation was that it was a great place to party. In the 1960's, soldiers fighting in the Vietnam war famously flocked to Thailand to drown their battle-worn minds in booze, beaches, and women. A lot has changed since those days, but the fact remains that Thailand still serves as a prime destination for those looking to let loose and show their wild side.
Whether you get the odd urge to rally some friends (or want to go meet some new ones) and make a night of it, live the late-night lifestyle, are on a gap year looking to live it up, or are a pensioner wishing for your favorite barstool with a good view of the evenings televised sporting event, there is something for everyone in Phuket. The island seems to be locked into perpetual transformation with different regions morphing into something slightly different everyday, and this is one thing that makes Phuket such a fun and interesting place to live.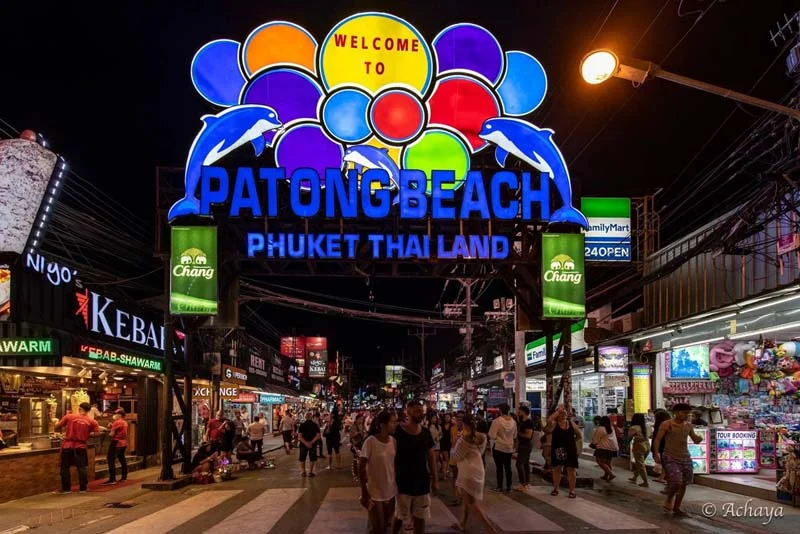 Bangla Road Cr: Achaya
In the midst of these ongoing transformations there is one constant that never changes: Patong is, and will likely remain, the heavyweight champion of the island's party scene. While it's perhaps not the most family-friendly place out there (although a surprising amount of tourist families visit), it's a town that never ceases to provide those who experience it tales to tell for the foreseeable future. Patong is a beach town, but that's not really its prime attraction; that honor goes to Bangla Road. Here you will find glitzy nightclubs, dance halls with renowned DJs, sports bars, the average watering hole, live music venues, bars where scantily-clad ladies (they're not always really ladies) dance on the bar, full-on strip clubs, and a varied array of debaucherous possibilities unfit for these pages and likely illegal.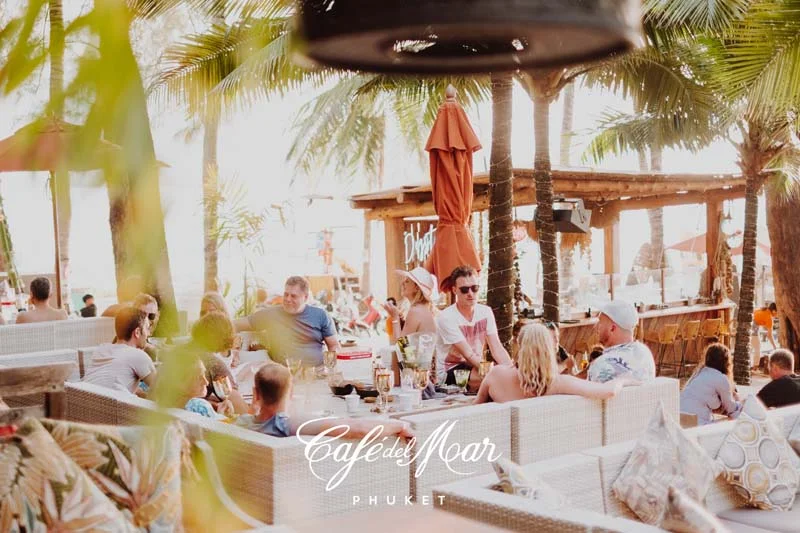 Cafe del Mar
It would be easy to say that there is Patong, and then there is the rest of Phuket. However, the different beach towns each have their own vibes. Rawai has a relatively large permanent expat population who frequent a mix of restaurant/sports bars, small neighborhood favorites, a few larger complexes housing many smaller bars within and pool tables, a few relaxed reggae bars, plenty of typical "girly bars", and even a joint specializing in drum and bass music. In Kata, Karon, and Kamala, you will find more or less similar offerings. Kata and Kamala both have a small selection of beachfront spots if you prefer to keep your feet in the sand. In Kamala, you will also find the Cafe del Mar beach club which is quite popular with its Ibiza-style vibes of touring DJs, fireshows, and snazzy cocktails.
Along the long stretch of sand at Bang Tao beach, revelers will find a few quaint restaurant/bar style spots as well as the long-running Catch Beach Club, and the newer Carpe Diem Beach Club on the south end. Farther north is Xana Beach Club (part of Angsana Phuket Resort) which hosts big parties on holidays and other special occasions.
In Cherng Talay, near Bang Tao beach, there are a plethora of nightlife options. In general, this area has a more classy vibe, mostly devoid of the seedier establishments that can be found elsewhere. You'll find chic bars and clubs, beer gardens, wine shops, Irish pubs, and even the likes of a "speakeasy" and a cider house.
Phuket Town is the final nightlife hotspot. You'll discover a more local vibe here in part due to nearby universities. Some people prefer the nightlife here as it is less touristy and you can mingle with the real locals. There are big dance halls with loud live music geared towards the college-age crowd, sophisticated gastro-style pubs, jazz bars, rooftops bars, karaoke joints, and just about everything in between.