Phuket is a year-round tropical island that boasts an endless supply of activities for your kids. The temperate climate means that there is always something to do, and you can be out and about every day. Even the need for an umbrella won't hamper their spirits of exploration and fun. 
There is a rapidly growing number of family-friendly facilities that promote fun things to occupy them. You can choose from international hotels or independent facilities to ensure that your children are entertained and learn through play. Kid's clubs have a variety of offerings including cooking classes, painting, dancing and games.
Blue Tree Phuket, Cherngtalay

Blue Tree Phuket | Credit: Kapook.com
Blue Tree is in the peaceful neighbourhood of Cherngtalay, which is located conveniently between the 'heroine's circle' roundabout and Laguna. It boasts an impressive 17,000 square metre lagoon which forms the epicentre of water-based activities, water slides, zip lines, aquatic sports and paddleboarding. Blue Tree is perfect for family days out and is suitable for kids of all ages.
Not only does the centre offer lots of family fun, but they host regular events such as markets and dance lessons.
The highlight of Blue Tree is the quadruple Super Fly Slide. You choose to descend one of the four slides that have a steep 30-metre incline and have various 'lips' that propel you high in the sky before landing in the water. 
Safety is essential to Blue Tree, and there is always a blue-clad member of staff to ensure your family's wellbeing.
JW Marriott, Mai Khao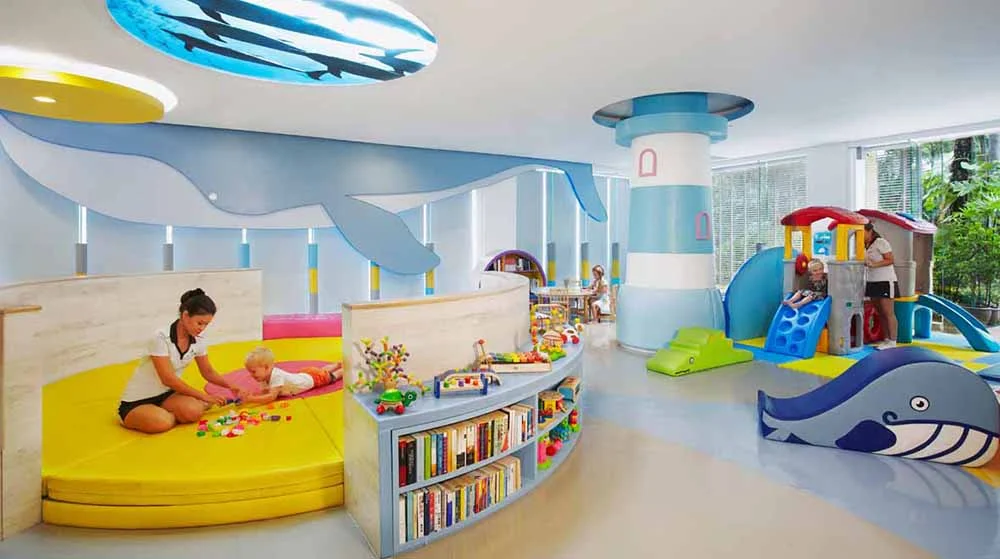 JW Marriott phuket for kid | Credit: Withmandy.com
The JW Marriott is a sprawling beachfront resort on the northernmost coast of Phuket. It has its own diving centre, Sea Bees, that offers diving courses and experiences for children and adults and possesses an extensive range of sports and leisure activities for kids. 
The internationally acclaimed hotel has tennis, volleyball and yoga classes for kids of all ages. There is a teen zone that boasts a full-size pool table. The children's pavilion is well-equipped with a toddlers playground, a comfy library with large cushions for storytime and a movie theatre. 
Daily activities include Thai cooking classes with the hotel's chef, dance classes, and craft workshops.
Also on-site is The Mai Khao Marine Turtle Foundation that is committed to protecting the marine and coastal environment for the sea turtles' wellbeing. They work closely with the Phuket Marine Biological Centre (PMBC) and the Royal Thai Navy to ensure their safety. They offer daily talks and feeding sessions in the centre.
Saii Phuket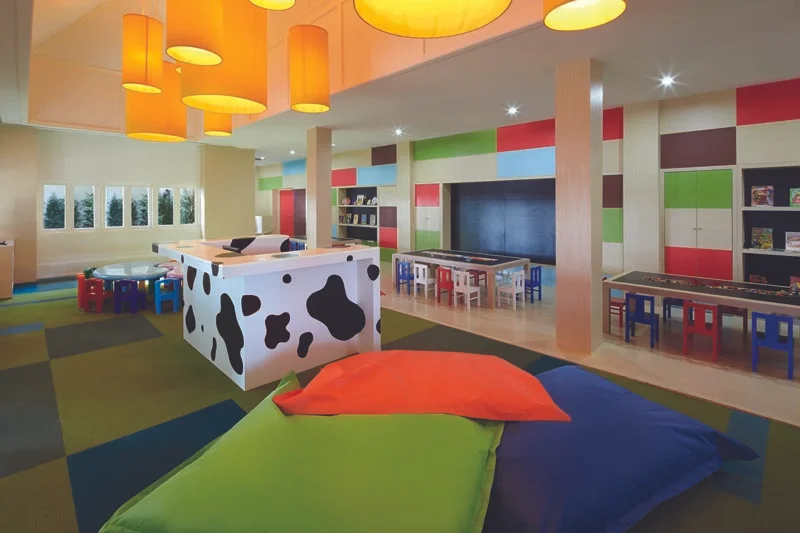 Kids Club at Saii Laguna Phuket | Credit: Lagunaphuket.com
Formerly known as Outrigger Laguna, Saii Phuket resort sits peacefully on Bangtao Bay, a popular destination for residents and holiday makers. The hotel loves to give a royal welcome to children between the ages of four and 12. They have an impressive outdoor play area with a plethora of activities to keep kids entertained throughout the day. The club has daily Thai-centric activities such as batik t-shirt making, painting and traditional dancing. There is a dedicated kids pool and a larger pool with a 55-metre slide to keep them occupied. An internationally acclaimed golf course surrounds the hotel, and the club offers lessons to budding players. 
Inside the club, there is a plethora of Wii games, snooker and table tennis, a DVD lounge and dedicated arts and crafts room. 
The resort has a tennis academy and a full recreation programme that offers adventure and tours for the entire family, so no two days are ever the same. Outrigger Laguna has a unique programme for children called 'Kids Night Out' where they can enjoy a movie, dinner and other evening activities. 
To top it all off, the kids also have their own spa sessions with specially adapted treatments for their sensitive skin.
Rawai Park Kids Club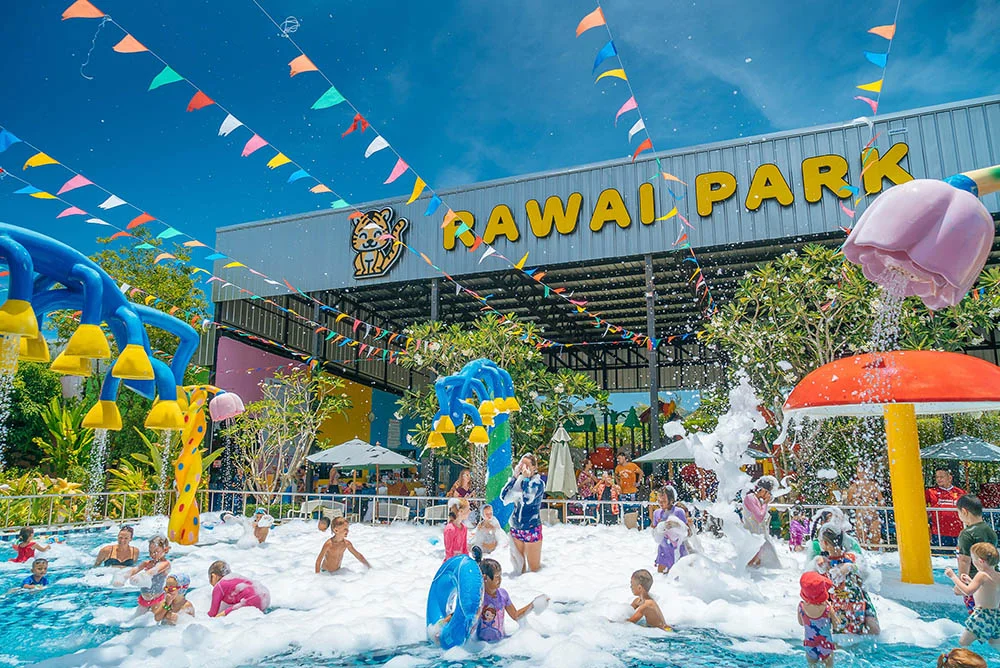 Rawai Park Kids Club | Credit: Rawaipark.com
Further south in Rawai, is Rawai Park Kids Club set on the eponymous beach. The club happily fills a gap dedicated to children's activities on this side of the island. They have an extensive indoor and outdoor play area with various playgrounds and a waterpark with slides. There are also manicured gardens with sandboxes in which the children can play and comfortable spaces for the kid's families to supervise and relax.
The indoor play area is fully air-conditioned, and there are many more slides, ball pits and climbing tunnels for the kids to enjoy. 
The restaurant boasts delicious international and Thai cuisine, a healthy kids menu and fresh juices and shakes. 
Rawai Park offers lots of weekend activities that include games, face painting and art workshops. They also offer birthday party celebrations for your children by prior arrangement and include unique games and birthday treats.
Conclusion
Not only are there endless beaches and plentiful activities across the island, but there are also many kids clubs that your children will enjoy, have the opportunity to make friends and learn new things through play.