This may be stating the obvious, but cafe culture is strong in Thailand these days. Phuket is no exception and at the very least rivals the likes of Bangkok and Chiang Mai for quality and selection. Of course what constitutes a good cafe is subjective and perhaps depends on what your goal is. One day you may seek out a spot to settle down with a book, the next join a friend for a chat, and then there are many who hunker down for the long haul with a laptop for work.
Plenty of corporate chains and franchises are capitalizing on our collective caffeine addiction the likes of Amazon, Doi Chang, Zurich Bread Cafe, and more. And while they might be a solid, consistent source for a fix, we'll focus more on the locally-owned, more instagrammable type cafes that exude a bit more character. 
The Cub House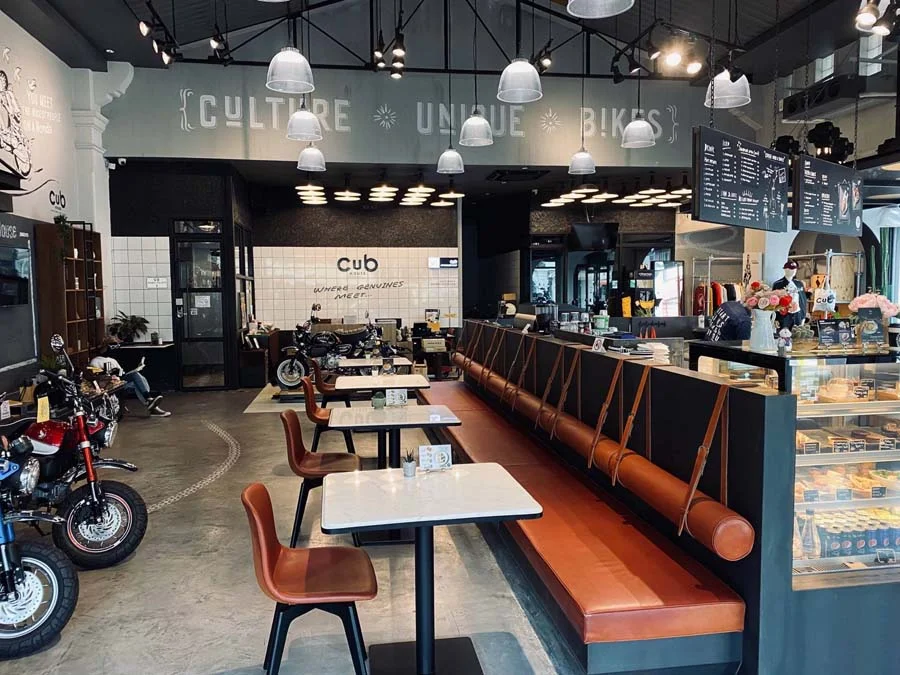 The Cub House | Cr: Holly Pan
Before its current incarnation, The Cub House was a Honda motorcycle dealership. As Old Town Phuket Town enjoyed a surge in tourist popularity several years ago, the motorcycle dealership part of the building was consolidated and the cafe was born.
Ideally situated on the corner of the popular Thalang Road, the cafe is still part dealership with stylish retro models displayed in the windows and a back dedicated to accessories for customizing bikes. Of course the namesake is derived from the most sold motor vehicle of all time, the Honda Super Cub, of which you can purchase one between sips of Greyhound brand coffee and fresh baked croissants. The leather couches are comfy, the coffee is strong and tasty, and the stools at the coffee bar are cushy motorbike seats. Long live the Super Cub.
Good For Rest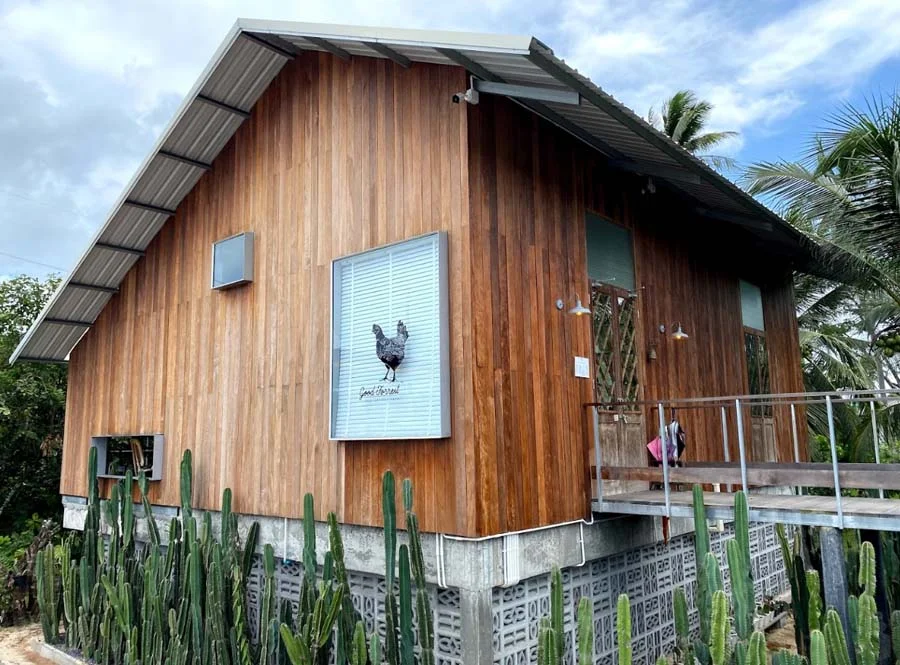 Good For Rest |  Cr: Pichitchai W.
Located in laid-back Paklok, this trendy spot is unassumingly tucked into the back corner of a gas station parking lot. It's readily identifiable by the forest of cactus they have surrounding the funky wooden building. 
Those with a prominent sweet tooth are going to love this cafe. They have a wide selection of baked goods, cakes, and more, and some rather unique offerings you won't find anywhere else. There's nice outdoor seating on an elevated porch overlooking the big garden. 
The Raka Cafe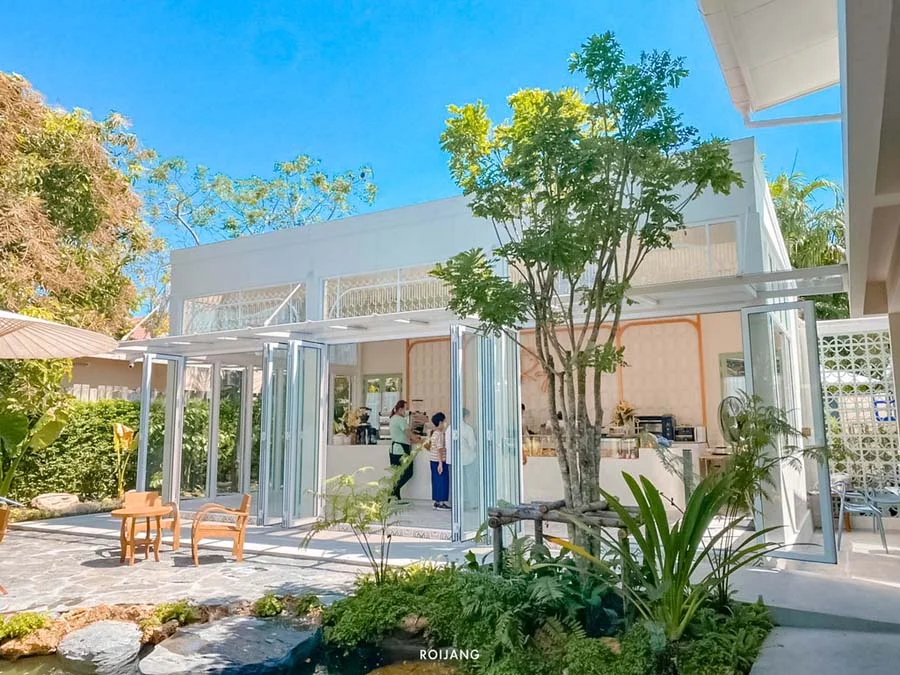 The Raka Cafe | Cr: roijang.com
If you live or find yourself in the south of the island, you could do worse than a visit to the Raka Cafe. Just south of Chalong Circle and the Shell gas station, this impeccably decorated and landscaped cafe has the good vibes. Bright, open, and airy it's worth a visit just for the atmosphere. The shady courtyard is complete with waterfalls, fish ponds, and luscious vegetation. After that, you'll be back for the fresh baked goods created on site by the passionate owners. 
Ma Doo Bua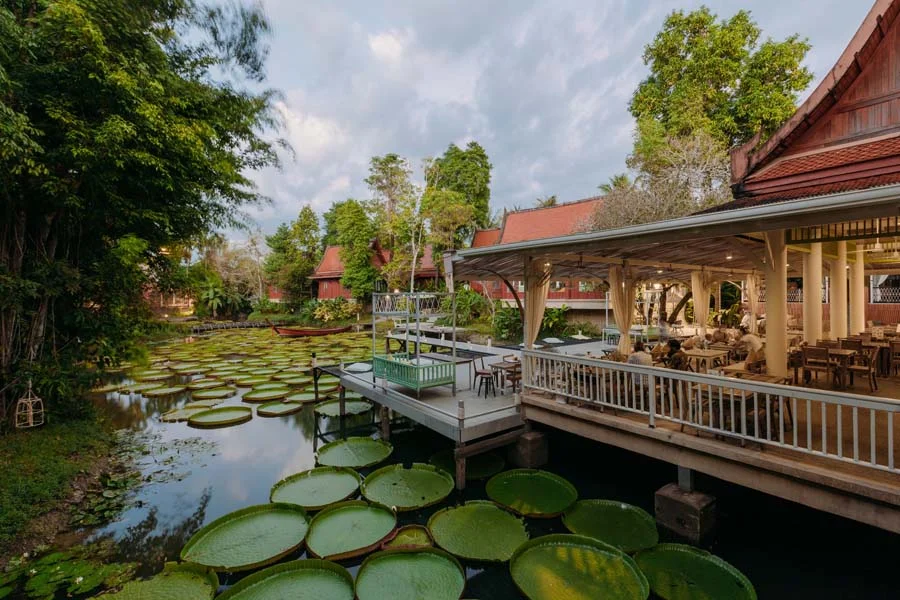 Ma Doo Bua | Cr: Facebook Ma Doo Bua Cafe' l มา ดู บัว ภูเก็ต
It's pretty much impossible to make a list of cafes in Phuket without mentioning this one. Ma Doo Bua is located just off Pasak Road alongside the At Panta Villas. The claim to fame for this cafe is the large pond it is built above which is covered in gigantic Victoria lotus. The floating leaves are so big that at times they will let people (under a certain weight) stand on them for photos. 
It's a comfortable, exceedingly photogenic spot for an afternoon coffee or lunch with a full menu to choose from. Few are disappointed with a visit to this cafe.